Millwall FC are a club known amongst the media and football fans alike for their association with hooliganism and a more general old-school feel around the club, however, at least on the pitch, this perception might be changing…
"No one likes us, no one likes us, No one likes us, we don't care! We are Millwall, super Millwall, We are Millwall, from The Den!" is a chant, sung by their own fans, that perhaps sums up the outsider's perception on Millwall FC. Located just south of Bermondsey and Rotherhithe in our lovely London, they are probably only rivalled by Leeds United for the title of the most hated team in all England.
The reasons behind this are many, but they can perhaps be boiled down to three different aspects of the club. Firstly, on the pitch Millwall are a side notorious for their longstanding marriage with the staple formation of English football, almost to a comical, Mike Bassett degree; a rigid 4-4-2 formation with pacey wingers, aerially dominant centre backs, gritty centre midfielders and, perhaps uniquely in Millwall's case, a front two consisting of two target-men rather than one aerially dominant striker alongside a more nimble, pacey and elegant frontman. No-nonsense, 'Brexit' football at its very finest. This style of football that is (or at least was) a continual feature of the club is not easy on the eye to say the least, creating a feeling of dread among fans of other clubs whenever Millwall come to town- you won't be in for a beautiful game of football.
This somewhat turgid experience on the pitch is matched by an equally turgid experience in the stadium (for away fans, it must be specified, rather than the home supporters, for whom The Den, the actual name of Millwall's stadium, rightfully has a special place in their hearts). This writer's one and only experience of travelling to The Den as an away fan was a lovely spring Saturday in April 2017 where my Oxford United ran out 3-0 winners against a Millwall side inside the League One playoffs at the time. Whilst the result and performance were of course very enjoyable as an Oxford fan, my experience was rounded off by bizarre scenes after the final whistle, where myself and the other travelling Oxford fans were held in the away end after the final whistle as Millwall fans invaded the pitch and migrated towards the away stand for an attempted confrontation with Oxford fans, for seemingly no reason at all- we have no rivalry with them, nor was the result anything disastrous in terms of their season for them. Whilst the to and fro of chants between us was light hearted (for example us Oxford fans singing a round of West Ham's club anthem "I'm Forever Blowing Bubbles") it nonetheless went to show even after a tremendous result on the pitch for any away side that comes, the home fans make sure that you go home somewhat rattled by the experience.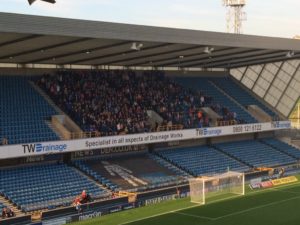 However, undoubtedly the most important reason for the negative perception of Millwall FC is their long-held association with football hooliganism in England, possessing the most famous hooligan firms in the country alongside their London rivals of West Ham and Chelsea. Hooliganism as a phenomenon in Britain, which came to prevalence in the 1970s and 1980s with the backdrop of unemployment and deprivation in Thatcher's Britain, had an association with Millwall from its birth, as Millwall's main firm, known originally as F-Troop, became renowned up and down for country for their violence. This perception has continued to the current day and with reason; over the years The Den has been closed on five separate occasions due to crowd trouble. Though the aura surrounding the firm, known now as the Millwall Bushwackers, has perhaps been sensationalised by the media and art forms, notably hooligan films such as The Football Factory and Green Street, the proof is in the pudding that the problem still exists, just as recently as 2013 fourteen arrests were made at the FA Cup semi-final at Wembley between Millwall and Wigan Athletic for crowd violence between themselves and with police.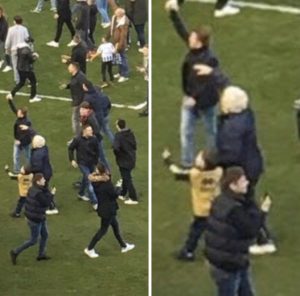 This mix of factors has led Millwall to become a hated club, but in one of the aforementioned aspects, the perception of Millwall being unfashionable and gritty may be changing to one of a club that is trendy and forward-thinking; and that is what is happening on the pitch. Neil Harris, manager of Millwall between summer of 2015 and October 2019 worked wonders for the club, getting them promoted at the second attempt from League One into the Championship in the 2016-17 season, spurring them on to a play-off push the following season, setting a new club record of 17 games unbeaten in the 2nd tier in the process, and last season the club were literally a few seconds away from an FA Cup semi-final, before losing to Brighton on penalties. Throughout his tenure, Harris maintained that Millwall philosophy; 4-4-2, tenacious, hard to beat, and endeared himself to Millwall fans in the process. However, with the club hovering near the relegation zone at the start of October this season, Harris resigned as manager, rightfully sensing that his relationship with the players had become stale and a change of management was needed. Gary Rowett was appointed as his successor, a manager who is a similar mould to that of Harris; he always demands 100% effort out of his players and prioritises team work ethic over the focus on individual players. Thus, a continuation of the 4-4-2, unfashionable style of football seemed to be on the cards, however it has not panned out this way.
Since the impressive 1-0 away win over high flying Swansea City in late November, Rowett has continued to play a three at the back formation, alternating between a 3-5-2 which Sheffield United successfully used last season to gain promotion to the Premier League, and has more often used a 3-4-3. Either way, the change from a 4-4-2 was sacrilege to Millwall fans, however Rowett has been thoroughly vindicated as Millwall now sit one place outside the playoffs, a remarkable turnaround from three months ago. The most fascinating aspect of this is that Rowett has hooked on to the overlapping centre backs tactical quirk, made famous by Sheffield United's promotion campaign last season. Similarly to Sheffield United last season, this move has baffled opposition defences as they fail to deal with overloads in wide areas, evidenced by the fact that only 21% of Millwall's attacking moves this season have come through the middle third of the pitch. Though this tactic now is a prerequisite to being a fashionable Championship team, Rowett hasn't ditched the central pillars of Millwall's footballing identity. Despite the attacking overlaps from centre backs Shaun Hutchinson and Jake Cooper, Alex Pearce is a rock at the centre of the back three, holding the fort whilst Cooper and Hutchinson attack, while Cooper has one of the highest aerial duel success rates in the Championship. The two wing backs of Mahlon Romeo and Shane Ferguson both posses exceptional work rates to get up and down the flanks as well as their raw pace, adding to the threat and potency of Millwall's wide overlaps. The two Irishmen in centre midfield of Shaun Williams and Jayson Molumby are likewise blessed with exceptional stamina, facilitating Millwall's high intensity attacking. The latter, on loan from Premier League outfit Brighton and Hove Albion also possesses an exceptional passing range allowing for quick switches of play, and thus his diverse midfield skill set allows him to play a Segundo Volante role exceptionally well, and has unsurprisingly led him to be touted as a future captain for the Irish national team. Most crucially however, Millwall's variety of options upfront mean they are a nightmare for opposition defences to come up against. Usually, Rowett selects Jed Wallace, a pacey wide man, to play on the right of the front three as an inside forward, allowing him to get into more dangerous shooting positions than he would normally do on the wing, as well as giving the wing backs a passing option in the half spaces if a crossing option isn't available. This has been a particularly fruitful move on Rowett's part, racking up 9 goals and 7 assists this season including some sterling goals, most notably a sublime freekick away at Cardiff City over the Christmas period. Wallace has formed an effective trident with the two other members of the front three, usually two out of the four target men that are in and around the first team this season under Rowett, namely Aiden O'Brien, Tom Bradshaw, Matt Smith (no, not that one from The Crown) and Jón Daði Böðvarsson. Not only does this allow Millwall to possess an extra aerial threat from set pieces but also provides them with effective attacking formulas and set moves, usually consisting of a deep cross from either wing back or Wallace, a header back across goal from the wider target man of the front three, often giving an easy finish to the central target man. This was the exact formula for Millwall's first goal against Luton on January 1st; deep cross from Wallace, headed back across by Smith leaving Bradshaw to easily nod home.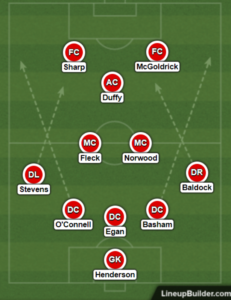 Even though opposing teams may eventually 'work Millwall out' over the next few weeks and months, the individual brilliance of Jed Wallace coupled with the sheer height of Millwall's' centre forwards are an impossible combination to defend against on their day, meaning that there is no reason why Rowett's men can't continue this run of form. Rowett's implementation of modern tactical quirks, methodical and systematic attacking moves (copying a key practice of Pep Guardiola) along with high intensity attacking, made fashionable in England over recent years since Jürgen Klopp's arrival and subsequent immense success at Liverpool, are making Rowett's side the flavour of the month in the Championship, and unlike the playoff push under Harris in 2018 which eventually tailed off, this one under Rowett could be for real.
Millwall are challenging their "no one like us" mentality; off the pitch stuff and travelling to The Den may still be unpalatable, but on the pitch, people, including me, are, well, starting to like them…
Stats and thanks credited to the brilliant WhoScored.com