As King's College London's official student newspaper since 1973, Roar has been undeniably, unavoidably relevant for nearly fifty years. Advertising with us, either online or in print, gives you the opportunity to communicate with the vast KCL (and broader University of London) student body, staff and alumni. 
Our readership
Roar publishes both online and in print. Our social media pages (Instagram, Facebook, Twitter, YouTube) have a collective reach of 10,000 followers. In 2020, in the month of June alone, our website received over 30,000 views.
We believe that collaborating with us through advertisements is a wonderful opportunity for you to promote your business to our readers, which include students, staff and alumni. In the midst of the hustle and bustle of our central London campuses, our paper is picked up by thousands of people and is distributed across all KCL campuses and halls. This is a great way to market campaigns, events, and offers across London.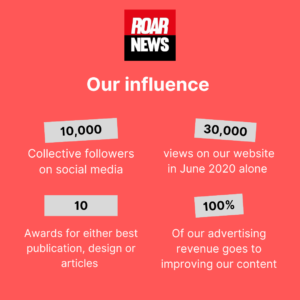 Our reputation
We are a multi-award winning student publication. We've won various national awards, including the Best Student Publication Award in 2015 and 2018, Best Website Award 2015 and Best Design Award 2015. Most recently, we were Highly Commended for Best Publication by the Student Publication Association (SPA) in 2022.
Our promise
The revenue we make from advertising solely goes to improving our content, which is 100% free to access. Our editorial team and writers are unpaid and simply motivated by their passion for journalism. Therefore, any revenue collected from advertising are used to fund our Print editions, improvements to our website, video content and opportunities for our writers.
Our rates
Our rates

To advertise with us or ask any further questions, please email [email protected].