In a March 26 Instagram post, the KCL Intersectional Feminist Society (IFemSoc) released a joint statement against "harassment within student societies", alleging such conduct within the recent KCL Pakistani Society (PakSoc) elections.
The statement, accompanied by several screenshots from a PakSoc group chat, was also signed by Not On My Campus UK and It Happens Here KCL. The letter names a group of students allegedly at fault, including KCLSU VP Education for Arts and Sciences-elect Hamza Lone, PakSoc President-elect Rumail Zaheer, and PakSoc Welfare Officer-elect Mehran Khan.
According to IFemSoc and the other listed societies, these individuals were allegedly "inciting public defamation, harassment, bullying and intimidation against a member of their own society" who was running in the 2021/22 PakSoc elections. The student in question reportedly filed an election misconduct complaint which was subsequently rejected. The undersigned groups "demand that KCLSU takes action and applies their zero-tolerance policy against harassment and bullying," stating that PakSoc is "unfortunately one of many societies at King's that openly exercises forms of harassment and intimidation, and no action gets taken against it. We are furious and exhausted to see that such forms of harassment get taken lightly and often are ignored."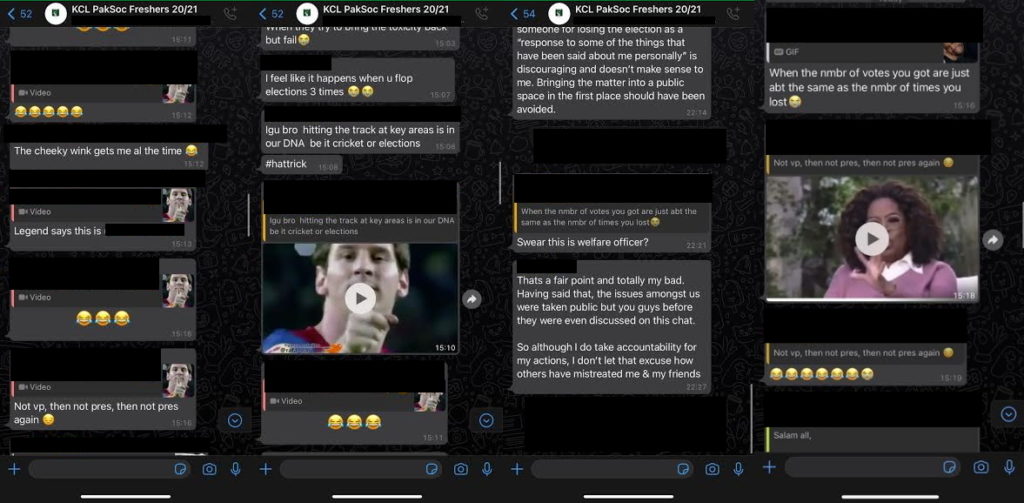 Their further demands include a public letter of apology signed by all officers accused, the inclusion of compulsory consent and student welfare training across all student societies, the creation of "a clear complaints procedure with guidance to how students can report any form of harassment faced", and for the university "to take action against this incident and ensure that such incidents do not occur in the future across all student societies."
KCLSU President-elect Zahra Syed also sent a message to members of the group chat strongly encouraging "everyone to stop improper behaviour", adding that "any continuing defamation attempts or bullying against members and previous candidates running for the elections will not be tolerated."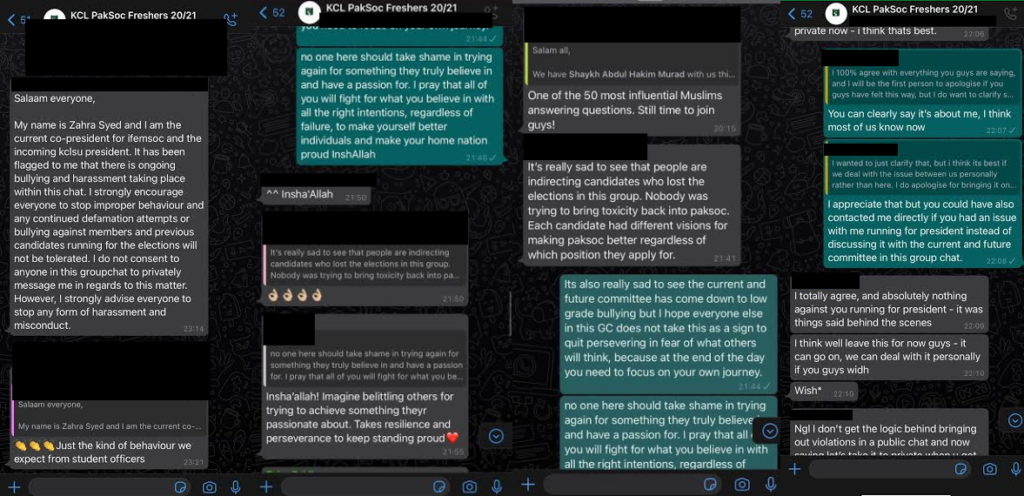 In a statement to Roar, IFemSoc elaborated: "The screenshots show evidence of bullying that said student lost the elections three times and that they are toxic. The harassing remarks were made by their welfare officer which is all the more concerning. We believe that Paksoc is a misogynistic platform which has had a detrimental impact on student welfare and mental health. We demand KCLSU to take serious action against this".
A member of PakSoc, who wished to remain anonymous, also told Roar: "The ongoing incidents which took place in the Paksoc group chat made me feel appalled and uncomfortable. These unprovoked comments from existing committee members have ultimately tarnished the supportive and accepting image of Paksoc. For an individual to be singled out, cornered and publicly mocked for losing an election is unacceptable behaviour from a student-led society. This would have a profoundly negative impact on a student's mental health and well-being and these actions should NOT be tolerated from a global institution such as King's College London".
When contacted by Roar for a statement, VP Education for Arts and Sciences-elect Hamza Lone told reporters: "I am speaking on the behalf of the accused individuals. All we want to say is that there are two sides to every story. We are in contact with the KCLSU to try to resolve the matter. We are happy to update Roar as and when possible".
KCL PakSoc was contacted for a statement from the organisation's committee but has yet to reply. Roar will continue to update you as the situation develops.
Update, June 8th 2022: After a KCLSU investigation, the complaints made by IFemSoc were NOT upheld