University tuition fees at King's could increase from the current £9,000 limit starting from 2017. The increase could apply to current students.
The King's website says tuition fees are "subject to annual increases depending on government policy" and "annual inflationary increase", but this comes before MPs have voted on legislation which will link fee increases to quality of higher education teaching.
Under the government's proposals in the Higher Education White Papers published in May, if universities meet a threshold of good-quality teaching, they will be able to increase fees in line with inflation, which for 2017 is calculated to amount to £9,250.
Other leading UK universities, such as Durham, Kent, and Royal Holloway, have already began advertising 2017 fee rates at £9,250.
This was attacked as "disgraceful arrogance from some universities" by the Liberal Democrat education spokesman John Pugh.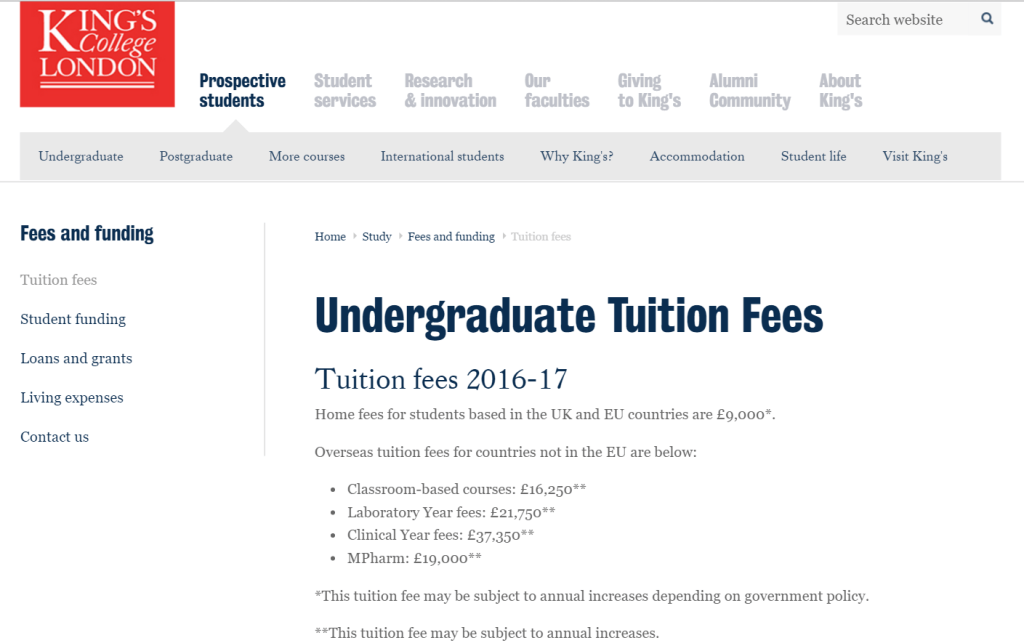 Universities and science minister Jo Johnson confirmed the figures in a statement on 21 July, the last day of Parliament before the summer recess.
Labour's education spokesman Gordon Marsden criticized this as a "disgraceful" attempt to "sneak out" the increase "before it has been properly discussed in Parliament."
Just done Point of Order in Commons Govt raising tuition fees by 2.8%. Sneaked out in written statement as Parlt breaks up . Disgraceful.

— Gordon Marsden MP (@GordonMarsden) July 21, 2016
The major reforms were debated in Parliament on 19 July in a second reading of the government's Higher Education and Research Bill, including the measures announced under the HE White Paper. The bill passed the reading with a slim 294 votes to 258, moving it onto the next stage of debates.
The government says if the fee rise is challenged in the House of Commons, there is likely to be a vote by MPs in the autumn.
Newly-appointed education secretary Justine Greening, making her first appearance at the House of Commons, said: "This will rightly continue to require the same level of parliamentary scrutiny as before and the Bill will allow the maximum fee cap to keep pace with inflation."
The government argues that without an inflationary increase the value of tuition fees will be eroded.
The proposed reforms have been met with substantial opposition from Labour MP Angela Rayner, who said that the bill will make universities "less accessible" and is "slamming the door of opportunity in the face of young people who have high aspirations and the talent to fulfil them."
The National Union of Students have announced a protest demonstration in November.
Sorana Vieru, vice president of the National Union of Students, said: "A further fee rise will have a damaging impact on students and it is frustrating to learn universities were lobbying the minister for the fee rise before the reforms were published."
"We believe teaching quality is not improved by pitting institutions against each other and driving up market competition…  it will simply make students have to pay more to access HE and drive inequality between institutions."
The #HEBill passes forward to committee stage. Yes – 294 . No – 258. The fight is just about to pick up #NUSleadchange
— Sorana Vieru (@SoranaBanana) July 19, 2016
The inflation-linked rise represents a 2.8% increase and if that continued would mean fees rising above £10,000 in the next few years.
The legislation that will be created to measure teaching quality in universities, based on factors such as graduate employment, is called the "teaching excellence framework" (TEF).
Although the framework has not yet been implemented, the government promises that in its first year universities will automatically have to charge an index-linked inflation increase to students, effectively making £9,250 the new limit.
Mr Johnson said: "For all new students and eligible continuing students who started their full-time courses on or after 1 September 2012 and are undertaking courses at publicly funded higher education providers that have achieved a TEF rating of meets expectations, maximum tuition fee caps will be increased by forecast inflation (2.8 per cent) in 2017-18."
Many have expressed concern over how the increasing 'marketisation' of higher education will add further student debt, and affect teaching quality and accessibility to potential students from disadvantaged backgrounds, who have seen their maintenance grants cut by the Conservative government.
Mr Marsden has described the TEF as a "Trojan horse for removing the fee cap", saying that it is "laced with an obsession for market-led ideology that does not reflect the realities in higher education or those of the post-Brexit world."
The uncertain political climate created by the UK's exit from the EU has fuelled calls to pause reforms.
A King's College London spokesperson commented: "We are awaiting approval of our 2017-18 access agreement with the Office for Fair Access. If this is approved we intend to charge £9,250 for Home students across all years of study from 2017-18, which represents an inflationary increase."
Ben Hunt, outgoing vice president of KCLSU, said: "We, as a Union, have spoken against any raise to tuition fees consistently for the last year in response to these proposals.
"Kings does not stand to do well in the new teaching excellence rankings that are proposed and therefore should speak out against putting teaching and fees together when it is no measure whatsoever of teaching quality, and could price many prospective students out of education."