Editor-in-Chief Marino Unger-Verna examines how students at King's College London have responded to Covid-19 policies and the university's response to tuition fee refund demands.
What a year for students at King's. Just under a year ago, the Covid-19 pandemic sent an otherwise average academic year into a calamitous downward spiral. New students who arrived at our gates in September were met with a broken accommodations portal and a staff still rushing to recover its footing. The UK is at the tail-end of its third national lockdown, with in-person lectures a distant memory for most.
Of all these issues, however, the university's new assessment mitigation policies – and students' reactions to them – recently topped the proverbial cake.
Following months of silence from King's, the issue was one numerous organisations campaigned for. The KCLSU Student Officers' team signed a joint letter with other Russell Group Students' Unions demanding an adequate "safety net" policy, and Roar banded together with fellow Russell Group student publications in a joint editorial to the same end. The policies, when finally released, were met with mixed reception.
In a blog post published on the KCLSU website, the Officers' team told students that their attempts to negotiate with King's administration had borne no fruit. To quote them directly: "At no point in this process can we see that the university conducted meaningful student engagement, particularly with elected academic programme representatives, in a policy that directly affects them and their academic attainment, has knock-on effects on mental health and wellbeing, and about which students have been wanting assurance and consultation on for the duration of this academic year."
Shortly following the policies' official announcement, Roar ran a poll to collate direct student feedback to the new measures, and their responses largely mirror the Officers' sentiments. Of the polled group, 75% of students who were at King's before the pandemic find the university's new measures worse than those offered last year. 22.2% found the new measures "okay", while only 2.8% found them to be better. No students found the measures to be "much better" than previous offerings.
Reactions to general support offered by King's this year were similarly weighted. 36.6% found support to be "very negative", with two groups of 24.4% finding the administration's approach "negative" or "okay". 14.6% of students found support this year to be "good", while, once again, no students described their experience as "very good". Perhaps most concerning, however, is the acknowledgement rate of the new policies. Of the students we polled, over a quarter were unaware that a new set of policies even existed.
Breaking the data down further, first-year students seem happiest with the new measures but, having never experienced life at King's pre-Covid, what points of reference are such responses based on? One first-year student told Roar they were very happy about the update, but that "I am quite biased as I studied online last year and had a much worse experience than the one I am having in my first year at King's. I also live in a privately rented accommodation of nine students, meaning I don't get too lonely during times of lockdown."
Even for this student, however, some aspects of the King's experience have been less than ideal: "I also feel like the pass/fail does not resolve all issues I had, because I was planning on applying for a bursary with my first-year grades, but I am expecting them to be average as we weren't prepared for our assessments very well."
Second- and third-year students at King's are far less pleased overall. As a second-year History student told Roar: "I'm just beyond devastated by the lack of empathy and support we've received from the university. It's really becoming clear why King's has such a low student satisfaction rating. It feels so difficult to reach out for more help when lecturers are also struggling to adapt to the whole situation too, as I don't want them to think anything's their fault and cause any ill feeling. Better mitigation could have solved so many fears and worries, especially for third years, so it's just so saddening that King's won't give us the reassurance that so many other unis are providing for their students." A second-year Liberal Arts student echoed this view, stating that "[King's] mental health support has been much worse than their academic support".
The sentiment that King's could have reduced the already overbearing strain this pandemic has placed on students' shoulders was widespread among respondents. As one third-year Politics student who wished to remain anonymous told Roar: "I had 10 deadlines in the last two weeks of semester two, and the final deadline was on Christmas Eve. And then I had barely two weeks 'off' university to have three exams in one week. So no break, because those two weeks were obviously spent revising. […] The amount of assessments, especially one after another with no break, is absurd.
"This would be unacceptable in pre-Covid times, and now we have all of this during a worldwide pandemic too? No consideration to our wellbeing in relation to assessments whatsoever.
"I lost half my head hair, lost 5kg of weight, and had to go to my GP where for the first time in my life I asked for antidepressants. All this in the space of a month due to the extreme stress.
"Uni is meant to be a place for me to learn and thrive, not a place for me to be crushed by work."
Given this data, the Student Officers' assertion that King's is reluctant to engage with students seems well-founded; and such behaviour couldn't have come at a worse time. According to mentalhealth.org.uk's latest figures, 54% of the adult UK population felt "anxious or worried" in the two weeks leading up to Christmas as a direct result of the Covid-19 pandemic – the exact time when King's students were preparing for their various exams, essays, and assessments.
At a February 18 Town Hall meeting organised by the KCLSU, King's Provost and Senior Vice President Evelyn Welch told students that King's could not justify any form of tuition refund – an issue organisations such as Liberate the University have been campaigning for over the past several months. Professor Welch told students: "You aren't getting nothing. You're still getting a degree". As a King's student told Roar via an Instagram poll run shortly after the Town Hall: "We're getting a paper. Even academics recognise the education is subpar". Almost in summary of the entire event, another student commented: "They want to give us a voice and then get angry when we say something they don't like".
As for Professor Welch's claim that King's does not have the funds to refund tuition, that may well be the case – but according to KCL's 2020 financial report, the President's total salary amounts to £463,000 – 10x the median salary at King's.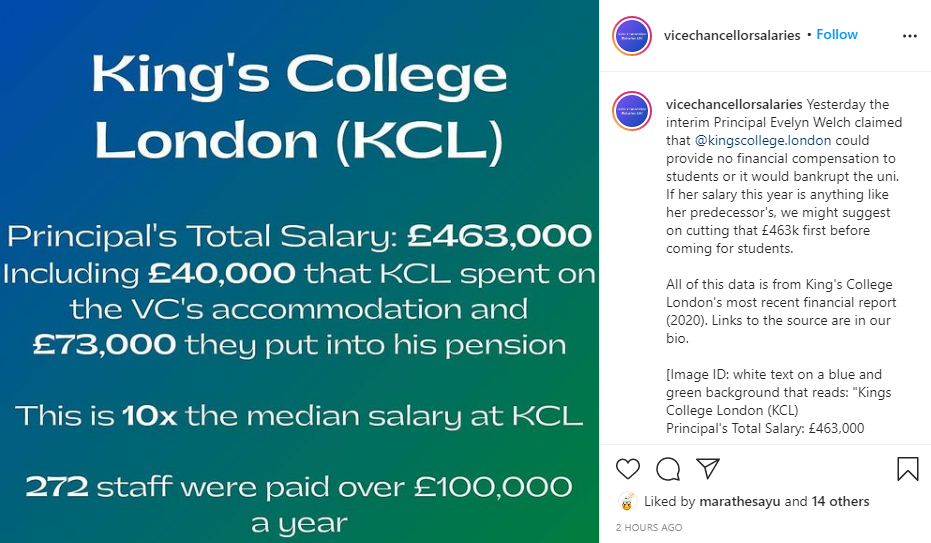 It is uncontroversial to say that, by most metrics, King's College London is a world-class institution. Times Higher Education (THE) currently lists King's as the 35th best university worldwide, and The Complete University Guide (CUG) states it to be the 20th best in the UK. Casting a glance at these rankings' student satisfaction ratings, however, reveals a wholly different side of the story: In that category, THE lists King's as 137th in the UK, with the CUG ranking following closely behind at 122nd.
This much is readily evident: Students at King's are not happy… and King's will only remain a "world-class institution" as long as its students and alumni believe it to be one. Alumni, in particular, are a major source of both advertisement and revenue for the university. King's own "Give Back" page, directed at prior students, opens with the sentence: "Service is in our DNA at King's". My question is this: service to whom? With an entire year of dissatisfied and disheartened students graduating in just a few months, can King's truly afford to continue ignoring their persistent, collective voice? And if it does, just how valuable will that "piece of paper" we're getting really be?
Editor-in-Chief of Roar News. Classics with English BA student. Perpetually caffeinated.