Roar writer Dania Quadri reviews a Walthamstow restaurant, Etles Uyghur Restaurant.
A few months ago, while poring over articles about the Uyghur genocide, I realised I knew very little about Uyghur culture. If the aim of genocide is to wipe away a peoples' culture and identity, then internalising and documenting a cultural experience would be my very small way of doing something to preserve Uyghur culture.
I decided that this first cultural experience would be related to food, and I used Instagram to connect with the Uyghur community in London. My search lead me to Zulfukar Ablikim on Instagram. Serendipitously, he told me his family owned a restaurant that served Uyghur cuisine: Etles Uyghur Restaurant. He invited me to meet at his family-owned restaurant, and of course, I accepted. My friend came along, too.
When we reached Etles Restaurant – a simple cafe, decorated with Uyghur instruments, ornaments and a similar themed rug on the walls – Zulfukar welcomed us in warmly. He ordered us a large pot of tea and conversation flowed with ease. We discussed the life of the Uyghur community in London and the efforts being made to keep their culture alive.
While the political news was now gaining ground, Zulfukar explained he was more focussed on instilling younger Uyghurs with a sense of connection to their culture. Inspiringly, he is involved in many cultural projects, including but not limited to a podcast called Tarim Talks, the Tarim Network which he founded – a platform for young Uyghurs to connect – and developing a language program for the Uyghur language.
Regarding the Uyghur food itself, Zulfukar reminded us that while our experience would give us an insight into their food, Uyghur cuisine is influenced by several regions and is consequently very varied. But the tea in our cups grew cold, and we decided it was our cue to order food (and a second pot of tea).
For starters, we ordered a Paprika Salad, Samsa Samosa and Tugur Dumplings. The salad was quite deceptive, for although it was made with simple vegetables, it was truly scrumptious. The veggies were fresh, crispy (goodbye soggy salad) and packed full of flavour without being overpowering – the perfect balance of sweet and sour, with a mild kick.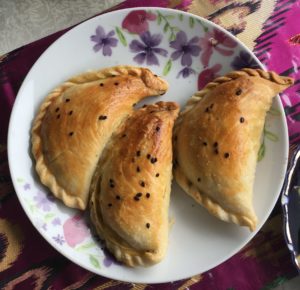 Out of the two minced-lamb starters, I preferred the samosas with their crunchy and flaky pastry, but I reckon that has something to do with me being a self-professed pastry queen. Dumpling enthusiasts may have preferred the latter. It was a sharp contrast to my absolute favourite, kheema, a Hyderabadi minced lamb dish that has a more pronounced spice profile; here the simple seasoning enabled us to taste the meat more.
For mains we had Etles Lamb Skewers, Beef Fried Leghmen, and Lamb Polo. The Leghmen consisted of hand-pulled noodles stir-fried with peppers, spring-onions, lightly spiced slices of beef and sesame seeds. I did not manage to take a picture of the dish because it disappeared so quickly and was my favourite main of the three. In fact, I ordered naan just to mop up the Leghmen gravy from my plate.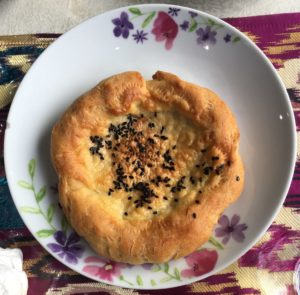 The lamb skewers were spiced with cumin and chilli (among the other usual suspects) and charred to give a nice crunchy exterior to the meat. I did find the lamb chunks themselves a bit too chewy for my liking, whereas my friend said the flavour made up for it. We finished our mains with the Lamb Polo, a comforting dish with fragrant rice, carrots, sultanas and topped with more of – you guessed it – lamb chunks. (Can you tell what my favourite meat is?)
Finally, for dessert we had a honey cake – alternate layers of sponge cake and cream – and more tea. Zulfukar informed us that this wasn't a traditional Uyghur dessert, and I am keen to taste those when I get a chance. I think it could do with a little more cream in each layer, because in texture it was a little dry. But it had just the right amount of subtle sweetness and was quite light, which was welcome after our elaborate meal. All in all, I thought the dishes were homely, yummy and well flavoured. The portion sizes were good and although we did not pay, the prices on the menu were very reasonable.
The number one question I ask myself when it comes to restaurants is: 'Do I think I'll go back?', and for Etles Restaurant, it is most definitely a big fat yes. Maybe I will try some chicken this time and go for a larger sharing plate, one that Zulfukar mentioned captures the true spirit of Uyghur cuisine. Mark Etles Restaurant down for your post-lockdown restaurant visit and you will not be disappointed.
View Etles Restaurant on Instagram here.