Roar writers Laura Saracino, Bianca Jituboh and Karen Ng discuss the 2019 documentary, For Sama.
On October 15th, Watersprite Film Festival presented a unique opportunity for us to meet the makers of Waad Al-Kateab's Oscar-nominated documentary. The interview took off in a familiar atmosphere and the questions were directed at the core contents of the documentary; a clear signal of both the admiration and the curiosity of the journalists after first watching the film. The questions dealt with how it meant being a woman with that experience, giving birth and raising a child between ruins and bombing, as well as having to cope with the political engagement and the social responsibility of reporting events for a broadcasting channel.
For Sama is a very moving and inspirational documentary that was brilliantly executed by Waad Al-Kateab and Edward Watts. It follows the journey of Al-Kateab, a Syrian journalist who documented the battle of Aleppo, Syria. She named the film after her daughter Sama, which translates into "Sky" in English. She mentions several times during the film that Sama was her motivation and strength during the battle. The way in which Al-Kateab documented not only hers but the experience of everyone around her during the Syrian regime is very intriguing for the viewers, who get to see a more personal and in-depth picture of the nightmare that the habitants of Aleppo had to go through. Al-Kateab doesn't shy away from the difficult moments and makes sure to capture the darkest times. 
Throughout the film, she captures scenes of rebellion, sadness and death, but also joy. Al-Kateab shows that despite the atrocity the habitants of Aleppo endure, they still share happy and loving moments together. They make it clear that all they want is independence because they love their country and wouldn't abandon it for the world. The bond the citizens hold is very apparent throughout the film, even as they face life-changing decisions. We also get to see the relationship of Al-Kateab and Hamza Al-Kateab (her partner) unfold from friends to a married couple to parents. It's love, but it's not a simple romantic story. It's a love she carried for freedom, for liberty, for her own country, for her people, her companion and her daughter. Thanks to Al-Kateab, the world is finally able to see the horrors happening in Syria from a more personal point of view. 
For Al-Kateab, the mother-journalist-protagonist-creator of the reportage, filming was a natural response to what was happening. She identifies as an activist, whose role is to capture everything, and to bring worldwide attention to what is wrong, unfair, evil. At the beginning, the major channels for reaching foreign audiences were YouTube and Facebook; later on, the story reached local and international channels. Nevine Mambro, a member of the production board, highlighted how For Sama was not the usual "report from a foreign country." Typically, journalists implement their own materials with other people's experiences, but Al-Kateab was living it. It is her story, her life.
"And also, it was just happening, I didn't ask how I could do it, but I just did," she reveals, "and there were times where doubts devoured my mind and made me question my purposes and my hopes. But in those dark moments, I had to keep clear how enormously strong and powerful I was, being able to say what I wanted, having complete freedom from the channels that were supporting me, and this gave me strength and real meaning." 
The first year was the most challenging for Al-Kateab and her companions, as it was an unexpected and unknown situation for all of them. She admitted having had doubts on showing her private life together with the political fights, but it would have been impossible otherwise: we are, as humans, both, and we cannot live outside politics. That is also why we have the duty to speak, to stand, to believe in something and fight with all our strength, for that and for those we love. Al-Kateab held the camera because she believes in a cause. Despite fearing not being able to do enough to help people around her, she was able to tell their stories. She had the power to show their struggles, their suffering from oppression to the world, but also their reliefs and their hopes, lights guiding them towards the pursuit of the end of that tunnel. 

Al-Kateab made another film, then another and another one. Maybe the next one would change the situation, she hoped, but day after day it was hard to keep on. A change could be seen on the horizon, but it was just not there yet. What the young journalist back then did might be seen as a driving force for change, but it was difficult to witness and live through all those terrible events when nothing moved enough to call it a change, though people saw them and felt compassion.

That is exactly the limit of individual action, the limit of journalism: it appeals to people's intentions, but can do little more. But Al-Kateab and her friends learnt resilience and taught hope. The scene with the baby boy, dead before being born, is a metaphor for oppressed Syria; the regime killed the revolution before it started. Suddenly, the baby opened its eyes and cried out loud. It was alive, and we were with them. Astonished and renewed in faith for the future. 
After the event, we were enlightened by the conversation led by Al-Kateab and Nevine, and we now feel as though it is our responsibility to share the action for Sama. 
In 2019, Al-Kateab established the Action For Sama organisation to raise awareness about residents of areas controlled by the Syrian opposition, particularly calling attention to the bombardment of local hospitals and other civilian infrastructures. Through the non-profit organisation Help Refugees and the charity Hand in Hand for Syria, Al-Kateab's campaign also raises funds for Syrian humanitarian aid workers and refugees.
The reaction of viewers – who have never themselves experienced the conflict firsthand – may be emotional during the film, but might stop at that. It is Al-Kateab's hope, however, that audiences of her film will not leave behind the ongoing Syrian civil war in the cinema. Though Al-Kateab's documentary largely chronicles events between 2011 and 2016, the strikes in Syria have not ceased to this day. In 2019, the Syrian government, supported by Russia, launched offensives against northwestern Syria that the United Nation reported as having displaced over a million civilians. Action For Sama seeks to maintain the Syrian situation in the public eye, and to encourage aid and donations towards affected civilians.
To donate to Action For Sama, please visit: https://donate.helprefugees.org/campaigns/forsama/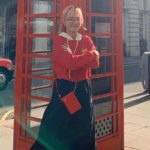 Karen is a journalist based in Hong Kong and London. She is a third year Liberal Arts student at King's College London, majoring in English and studying Politics, Philosophy, Digital Culture, Classics, and French. She is also a writer, poet, photographer and musician.