This January, Dr Munira Mirza became the new head of King's Culture. Previously, Dr Mirza has also served London's Deputy Mayor for Culture and Education, and was one of the masterminds of the cultural events surrounding the 2012 London Olympics. Roar sat down with Dr Mirza to get to know her and understand plans for the College.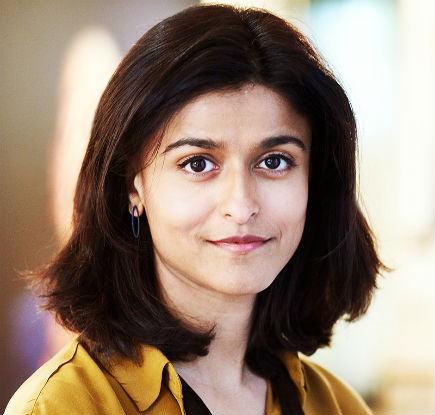 Roar: How do you like King's?
Dr Munira Mirza: I love it, I'm really enjoying myself; it's an amazing place. Just the breadth of work that's going on here, the quality of the research… I love going from a meeting with someone like Robert Lechler talking about innovations in health and what he's doing with the science gallery to Graham Earl in the Digital Humanities department talking about the work they're doing with the cultural sector on 5G. The range is fantastic!
R: What is King's Culture?
MM: Essentially, we're here to support the cultural community across King's. There are many people around King's, staff and students, who are working with culture, either through their research practice or through their curriculum or as volunteers or for pleasure. As culture isn't just something that happens within our team, our role is to strengthen people's involvement in culture.
We think this is important to King's' mission as a University. It's about strengthening research and education, and it's also a really important part of being in London. This is a city that is famous for its culture; it's got a very strong global dimension to it. It would be a shame for a student or an academic to be at King's and not enjoy all that London has to offer. We want to connect King's to that richness.
R: Was it the diversity of work you could do, or particular opportunities that attracted you to this job?
MM: When I saw the job, it really just felt right for me. I think it's fantastic that the institution really values culture within that and see it as integral to what it does. It isn't just a nice add-on. In my mind, in an ideal university should be about educating the whole person. Whilst focus on subject discipline is really important, I think it makes for a better university education to be open to a lot of different influences.
I take Culture in its very broad sense, not just in the tradition of fine arts but, the creative and cultural industries: film, photography, design, architecture. In all these areas, London excels. King's is about this idea of a global university. It's also a very civically-minded university.
R: In what way?
MM: There's a really strong sense of service here. There's this idea that when you graduate from King's you're gonna go out into the world and fix the world's problems. Whether that's you going out and setting up a major business and providing products that people want to buy or working in the charity sector and helping people or developing new ideas and research. The idea that you're serving society in some way is quite powerful. It's much more like the American model actually: it's a very strong civic ethos in a lot of American universities. The university is not just an ivory tower: it's confident, but it's also very mindful.
Current culture and free speech at King's
R: How do you feel about the culture at King's at the moment, particularly when there are significant ideological battles happening among the student body concerning freedom of speech, offence and minority representation?
MM: Well, I've only been here for three weeks so part of my job in the next weeks and months is start to understand what people are saying, what they feel about culture. The broader intellectual culture is one of discussion, ideas, and I guess these issues are live across universities all around the country, if not the world. I have a view of university as a place where ideas can flourish and there is exchange, but not necessarily always agreement. That is central to a university. That's why free speech is enshrined in the university's codes: there's a legal onus on the university to protect that. Obviously the Student Union is a significant player in that and student societies are very important. There are lots of different groups that represent different parts of the student community: I'm sure there isn't a single student point of view.
R: Do you think the principle of empathy and understanding different viewpoints is under threat by overregulation of speech, dress codes etc.? Because at times there is a frustration with how non-committal university policy can seem around such issues. Especially when we have cases where guests are being protested to the extent that they can't give their speeches and people refuse to engage in healthy dialogue with each other or reject people from speaking at all with petitions.
MM: Well, I don't know about overregulation at this university. I think King's has made quite a clear statement that it defends free speech. Obviously it has to manage where there are protests, but they shouldn't be able to shut an event down. I think the university has given a fairly hard line: events should be able to happen, protests should be allowed to happen but they shouldn't be able to close down an event. As long as it's not breaking the law, I think the university has been quite clear about that.
R: Do you think there's any way the Culture team could bridge that gap?
MM: Well, that's one of the things I'd love to explore. But I don't claim our ability to fix all these challenges. I think we can certainly look at whether you can have an interesting debate on some of these figures and try and understand what their differences are. I'm sure there's a role to play but it requires people from different student societies and the union being open to being in a dialogue.