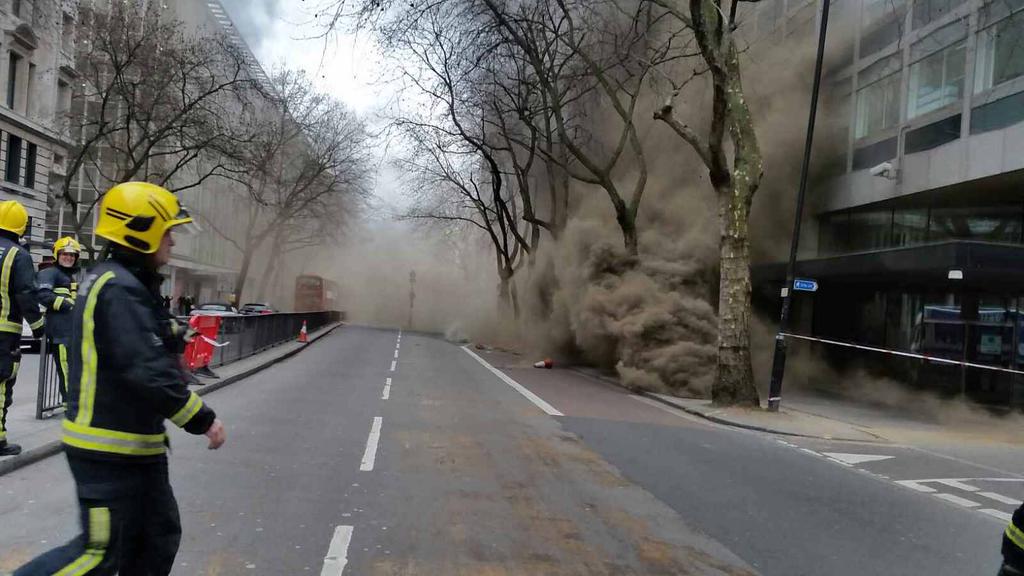 AN underground electrical fire on Kingsway sparked a mass evacuation of Holborn this afternoon leaving the Strand campus in lockdown.
The blaze was reportedly caused by an electrical fault that occurred in the cables under Kingsway, just outside the Virginia Woolf Building.
Evacuating the #Holborn @KingsCollegeLon office due to mystery underground fire pic.twitter.com/qB9g4dovMr

— Tabitha Chetwynd (@TabbyChets) April 1, 2015
The alarm was raised when smoke was spotted coming out of a manhole on Kingsway around midday. Over two thousand people were evacuated from the vicinity of the blaze.
Smoke billows at junction with Kemble St as fire can be seen burning up through road. @BBCLondon949 #holbornfire pic.twitter.com/SYEKdxFSRz

— Anna O'Neill (@Annareporting) April 1, 2015
The surrounding area was covered in thick black smoke – including the Virginia Woolf Building and the LSE. Six fire engines and 35 firemen swiftly arrived at the scene to combat the fire, increasing to 70 later on.
At the time of writing, the issue has still not been solved. The London Fire Brigade has said: "The fire continues to burn. There are a lot of electrical cables down there." Until the electrical companies take hold of the situation the LFB will be unable to "tackle it effectively."
The latest from #Holbornfire #kingsway #fire #holborn http://t.co/zXDiMaWB3i pic.twitter.com/ytkg5fGe8n

— City A.M. (@CityAM) April 1, 2015
The entirety of the Strand campus has been shut down, including the Maughan library, which won't be opening till tomorrow.
Caught a glimpse of the #HolbornFire on the way back to the office. Some 2,000 people evacuated according to the beeb pic.twitter.com/UGYwqyyLkh

— Wardour (@WardourComms) April 1, 2015
One King's student wrote on Twitter: "As you can imagine, the evacuation wasn't totally smooth! Classic King's…"
The King's Health Centre reported that the ensuing power cut disrupted their services.
There are no reported injuries according to the London Fire Brigade.