This evening, large crowds gathered in anticipation to hear the results of the KCLSU Spring Elections. Yet the results were not announced, as the event was disrupted by protesters storming the stage over claims that candidates had coerced and harassed many women into voting for them.
After a final, short-and-sweet speech by Ahad Mahmood, the incumbent KCLSU President, on the importance of the Student Union being engaged and aware, the moderator of the event began stating the rules of procedure. In the midst of his speech, women sitting in the first row began shouting: "not my president!" They then proceeded to ambush the stage and stand in solidarity over misconduct allegations.
One of the lead protesters moved across the room, encouraging other men and women to stand and protest along with them. She stressed to everyone the irony of this taking place on International Women's Day "when some of the very candidates you voted for have been accused of harassment and coercion." The protesters then yelled "Happy international Women's Day, everyone!" in mockery of the apparent hypocrisy of the KCLSU.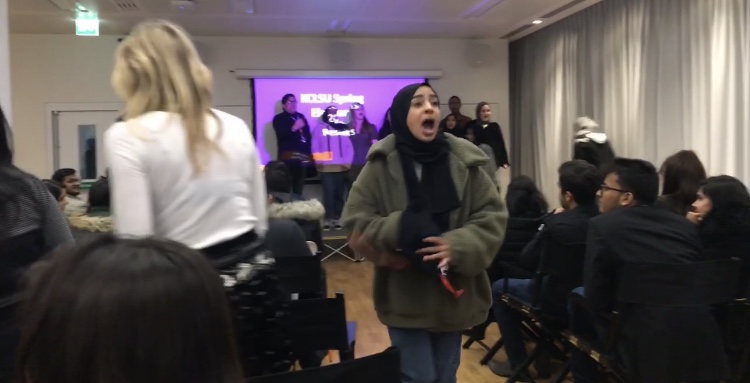 After ten minutes of protesting, the moderator said: "This event was held simply to announce the results of the election. In light of this protest, we will be uploading the results online now," This led to a lot of booing by the protesters, who were aiming to prevent the results being declared.
In conversation with Claudia Watts, an SU Presidential candidate who was at the forefront of the protest, Roar discovered that women have reportedly been "shouted and screamed at, had cameras shoved in their faces, followed and stalked around campus, had their phones taken away from them." Candidates also allegedly told people who had already voted to "go back and vote" for them.
While Ms. Watts is a candidate herself, she believes that re-elections are necessary because "whoever the current winner is, they've won through unjust means and should not be stood by." In a statement given to Roar, she said: "It is so unfair on candidates who have run to make this union better.
"Personally, I have been really proud of how I have run my campaign and it breaks my heart that it's being corrupted by individuals who want to win more then they want to do the right thing. If a person gets elected who thinks it's okay to be aggressive and intimidating to gain votes, imagine what they would do to this University."
One of the leaders of the protest, who prefers to remain anonymous, said: "following the closing of voting yesterday, a number of students came together to say that they (self-defining women and non-binary people) had been harassed by some of the Vice President candidates and one of the Presidential candidates that had been running.
"We attached footage and photos of phones being taken away, international students with language barriers being taken advantage of, and their laptops being taken away." After a number of complaints, the KCLSU said that the Returning Officer had cleared the protesters to announce and address these problems.
Some protesters also expressed an anti-NUS sentiment, saying that NUS guidelines "prioritised releasing election results over the safety of female students."
After the demonstration, which led to the cancellation of the event, the protesters moved to the Student Union Office in Bush House, where they could be heard yelling at ex-President Ahad Mahmood for not dealing with voter coercion and asserting the importance of investigating the issue.
Societies have also spoken out, with the KCL Intersectional Feminist Society stating: "If we allow people who have used these abusive and intimidating tactics, what does the future of the university hold? What will happen to the victims of aggressive sexual harassment or even sexual violence? They won't feel safe."
The society also mentioned the "creepy behaviour" and "weird flirting" exhibited by some of the candidates, implying that women felt compelled to vote to get rid of the unwanted attention. They stressed their strong belief that women of colour were targeted because of them being "less likely to complain," along with "the chance of a language barrier preventing them from being fully aware of their rights and election rules."
The demonstration received mixed reactions from the audience.
Some students, who prefer to remain anonymous, were in full support of the women, saying: "We didn't even know this was an issue. It's honestly appalling what these women have been through, more power to them!"
However, other students could be heard venting their frustration about the protest, deeming it "overdramatic, irrelevant and simply obstructive."
Results of the spring elections have since been announced, but were delayed by two hours to ensure that all procedures were adhered to – which is widely seen as a cover up, a "fig leaf."
The results are as follows:
President: Shaswat Jain
VP Education (Health): Rhiannon Owen
VP Welfare & Community: Furqan Khan
VP Postgraduate: Nafiza Mamun
VP Education (Arts and Sciences): Gurbaaz Singh Gill
VP Activities and Development: Nakul Patwa
Women's Network Officer: Sparsh Sehgal
People of Colour Network Officer: Angad Khanna
Mature Students' Network Officer: Jan Raza
LGBT+ Network Officer: Madhav Setia
International Students' Network Officer: Abdullah Khan
First Generation Network Officer: Rufeida Alhatimy
Disability Network Officer: Emma Zirpoli-Dawson
NUS Delegates: Arnav Ratan, Caterina Cedolini, Hardik Agrawal, Mai Shehab, Uday Singh Sandhu, Zainab Khan, Zahra Abu
This year, the overall voter turnout increased to around 21%, which is an improvement from the 11% last year. Undergraduate students voted the most, with 20.8% of total eligible students voting.
Shockingly, the three main culprits that were accused of harassment – Shaswat Jain, Furqan Khan and Gurbaaz Singh Gill – all won their elections, leading to chaos within the Student Union. The issue at hand is allegedly being investigated, with students and candidates alike condemning the "fraudulent" electoral process and vying for a re-election. It remains to be seen how the KCLSU deals with this scandal.
Roar recorded the entire event, footage of which can be seen on our Twitter page.