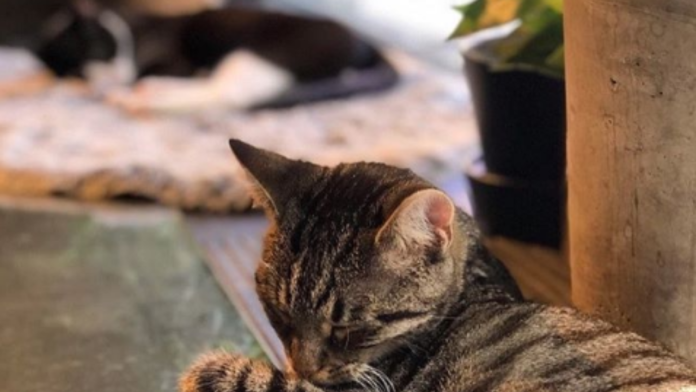 Comment Editor Marino Unger-Verna and guest contributor Caitlin Jackson review Java Whiskers, a new cat cafe in Central London.
Cat cafes are not a new phenomenon in London. Since their origin in Taiwan, they have spread across the globe, offering customers the chance to unwind alongside furry feline friends. Java Whiskers, located in Marylebone, is the trend's newest iteration. Its owners started in Stockholm, Sweden, where they operate the country's first and only cat cafe. Their goal? To "raise the public awareness of homeless cats, and together with the public and our partners, to find forever homes for as many cats as possible" – while offering a relaxing customer experience to boot.
Important to mention before we begin is Java Whiskers' attention to safety and cleanliness during the current pandemic. Social distancing is maintained between staff and guests, masks are mandatory while out of your seat, and many of the existing rules designed to protect the cats lend themselves well to keeping customers safe.
The Stars of the Show
Feline charity organisations such as Cat Protection take issue with cat cafes, saying they are "not suitable for domestic cats", knowing that can make it difficult to condone visiting such establishments. Java Whiskers, thankfully, takes numerous precautions to ensure their cats have a calming and stable environment during their stay.
Java Whiskers' residents come from The Scratching Post, a charity organisation and shelter which helps cats find their forever homes. Java Whiskers has approximately nine cats at any given time, all of whom have the chance to live together in a separate space before they enter the cafe properly. This ensures their compatibility, and as a result, improves their welfare and reduces the risk of aggression or stress.
The cafe is designed to give resident cats as much space as they require: secluded areas within and high on the walls of the dining space which afford the cats a chance to get away, and should they need even more, they can leave the dining space whenever they want to, independently. Upon arrival, guests are informed of Java Whiskers' house rules: no feeding the cats, no disturbing them while they sleep or eat, and no picking them up or chasing them around the space. If a cat wants time to itself at Java Whiskers, it gets it – and staff members often come by to ensure these regulations are being adhered to.
Additional rules such as the banning of children under the age of ten, making hand-washing mandatory on entry, and requiring customers to remove their shoes all add to an environment where the cats' welfare is the number one priority.
The Dining Experience
Aside from its adorable cats, Java Whiskers provides a wide range of food and drink, including vegan, gluten-free, and lactose-free options. We were given the choice of selecting our own food or Java Whiskers' high tea and we opted for the latter, which included scones, cakes, and sandwiches. Both the food and the accompanying drinks were delicious and of high quality. The staff were friendly and attentive – to ourselves as well as the cats – ensuring we were happy and looked after. It was easy to tell that the cats felt at home with their carers, and vice versa.
The cafe itself is designed with both humans and cats in mind, providing a wonderful ambience. The first room is the largest, with a large window reminiscent of a greenhouse lining one wall and a fireplace the other. Fixtures on the walls which may appear to be abstract works of art on first glance in fact give the cafe's feline residents the ability to climb high up into the rafters, where they are able to either rest or move from room to room undisturbed.
Java Whiskers' second room is smaller and more tucked-away, providing a perfect place for cats to sleep or take a moment away from prying eyes – there are only two tables in the space. The walls are decorated with delightful illustrations of celebrities and their cats. Accompanying all this are admittedly strange yet surprisingly relaxing instrumental renditions of pop music like Miley Cyrus' Wrecking Ball.
The experience can only be described as peaceful and is in no way rushed; the relaxed demeanour of Java Whiskers' residents is perfectly mirrored. During our time there, we would take breaks in between sampling different foods to sit with the cats and take in the atmosphere. At one point, Java Whiskers staff handed us treats to offer the cats – which they naturally enjoyed as much as we did.
Verdict
If you've read the entirety of this review, our impressions should be quite clear: Java Whiskers is a wonderful chance to separate yourself from the bustle of London and the chaos of university life. An hour to clear your head can be an important thing; Java Whiskers provides just the space for that. With all the tensions that may have built up over the last few months, we think this spot could be the perfect place for a post-lockdown de-stress.
That being said, student budgets are notoriously tight, and with a £14.99 entry fee on top of any food you choose to get, Java Whiskers may be an experience best saved for special occasions. We would recommend a coffee or a snack and enjoying your time with the cafe's lovely cats – they're certainly worth your while.
A minor note: Java Whiskers has been closed since the second national lockdown began on 5 November. As part of the London government's Pay it Forward scheme, they are currently accepting donations to make up for lost profits, which the Mayor of London's office will match 1:1.
Comment Editor for Roar News. Classics with English BA student. Habitual procrastinator.