Roar Writer Karen Ng interviews Devana Ng, the Co-Founder of green startup Invisible Company (formerly known as Distinctive Action). They discuss the brand's mission, the plastic crisis, and individual responsibility.
Plastic is the omnipresent reminder of our dedication to convenience over the environment. Wrappers, electronics, and flooring alike are all ingrained within our daily lives. Most glaringly, though, are the plastic bags that inhabit so much of the modern urban space. Through Invisible Company, Co-Founders Devana Ng, Flavien Chaussegros and Jorge Torres seek to provide an alternative to plastic; one that is non-toxic, biodegradable, compostable, marine-safe and water-soluble.
The origin of Invisible Company and the #INVISIBLEBAG
"When we went to the mountains in Hong Kong, we found a lot of trash," Ng explains. "We started to do 'plogging' [jogging whilst picking up litter on the way], but then we thought, how much could we help? The most important thing is to reduce the source – the manufacturing should change to some alternative, more sustainable packaging." Across 2018 and 2019, Ng and her fellow Co-Founders embarked on a worldwide journey to find existing technology to develop. After visiting countries across Asia and Europe, they discovered the material used in their #INVISIBLEBAG product – polyvinyl alcohol, or PVA.
"It is a water-soluble polymer," Ng continues. "It's also compostable and biodegradable." Not only is the #INVISIBLEBAG biodegradable, due to its marine-safe and non-toxic characteristics, it can also be safely dissolved in water. The product passed the EEQ [Estrogen Equivalent] test and has received multiple certifications, including the US Standard ASTM D6400, the European Standard EN13432 and from the Japan BioPlastics Association (JBPA GreenPla). "We already got the certification. After dissolving the bag in water, it will be converted back to carbon dioxide and water by the microorganisms. It's not only hot water; it only triggers it to dissolve faster. In a natural environment, it would never be like 80ºC. Since [polyvinyl alcohol] is hydrophilic, if it's in touch with cold water for too long, it will be dissolved as well. That's why it will be a great alternative solution to tackle the plastic crisis in the ocean."
Ng elaborates: "[Polyvinyl alcohol] was actually found a hundred years ago, by two German scientists. It first started to be commercialised in Japan. It is most commonly used in eye drops, contact lenses, laundry detergent pod coatings, and the outside coating of medicine capsules – it's exactly the same material." Why, then, has PVA not already replaced plastic in our daily lives? "The raw material itself, compared to plastic, is at least three times more expensive. With commercialised detergent pods, you're talking about big volumes – it has a very industrial use. When it comes to packaging, compared to plastic, it's more expensive. So, it's never been used by a lot of people. We really want to market the #INVISIBLEBAG for general public use, to make the material more accessible."
Touching base with the #INVISIBLEBAG
Innovation and education are key factors within Invisible Company's vision. "You need to bring more new materials in order to give an alternative solution to manufacturers and brands. At the same time, we want to do lots of education. Not only to young people, but to the general public – to inspire them, and also bring a positive environmental impact." The startup has achieved a lot since its establishment only a few months ago. "We launched the business in February this year, and we commercialised the product in May. The #INVISIBLEBAG is the first item, because, you know packaging. You know plastic bags. It's very easy to touch base with people with the #INVISIBLEBAG."
Aims and branding
The visual brand of the #INVISIBLEBAG is recognisable: stylish social media posts are cohesive, and the product design itself is sleek and minimalist. "We aim to do B2B [business-to-business], so we build a strong brand, which benefits the brands [that we work with]. They don't need to use ten times more effort to talk to the end users, who buy their clothes. What is this bag? What is the material, what is the benefit to nature, and how do you dissolve it? We do that job [of explaining]."
Since its launch, the #INVISIBLEBAG has made constant appearances across Hong Kong's social media. The response has been enthusiastic, with newspapers and popular online platforms alike featuring the product. "We are very happy and honoured to be interviewed by different medias, not only based in Hong Kong. These days, we have some in Taiwan and Japan who also share the message, and we have over 60 brands in Hong Kong and overseas using the #INVISIBLEBAG. As a three-month startup, we're very happy to see this result – but it's never been enough." Ng pauses. "We're seven million people in Hong Kong; we have tons of brands. A lot of SME [small to medium enterprise] brands have the eco-awareness. They know they need to make some changes, and they feel so guilty about using so much plastic packaging. But they cannot avoid it. They say, 'I'm so happy to finally see, in Hong Kong, that I have some alternative solutions with low MOQ [minimum order quantity] that make [choosing the alternative] accessible.'"
Products in the making
"Most of the brands we're working with these days are fashion brands." Ng mentions the risk of placing wet items in the hydrophilic #INVISIBLEBAG. "When you put clothing, toys, electronics, you need packaging. They're dry items, so it fits with the bag." Considering the switch many shops have made to online selling, Ng also mentions that a new bag product is in the works. "They don't have a physical store, so mostly, they need packaging for shipping. So, we will offer a plastic-free, compostable, biodegradable, water-soluble mailer bag. Mailer bags for shipping are always plastic [presently]. We tried it out twice in Hong Kong. It's water-resistant because it's very thick, so it won't cause a big issue when it's raining."
The benefits of multi-national leadership with diverse career-experience
On a phone call to arrange this interview, Ng shared that she and her two Co-Founders each hail from a different continent. "We are three founders: me [from Hong Kong], my husband [Flavien Chaussegros] is French, and Jorge [Torres], who is Colombian." How does that international scope affect their brand? "When we combine that into a business… You reach different countries. From time to time we have a lot of enquiries coming from Europe, and from South America. So we can speak the same language. We are partnering with an agent in Colombia: later on, we are going to have a Colombian office to touch base in South America. So Jorge will be having a strong connection with that." Emphasising the need to step outside of immediate context, Ng addresses the big picture: "The plastic crisis is not by area; it's not only in Hong Kong. It's a global crisis. We don't only want to bring the #INVISIBLEBAG to Hong Kong, we also want to touch base overseas and bring the positive impact to lots of people to raise awareness."
Not only are the three Co-Founders connected to a diverse range of continents; their career experience also showcases the importance of different skillsets within business leadership. "I have a background in marketing and my husband has a background of business development and operations, and a little bit of finance. Jorge has a very strong background in the textile and garment industry, and business development. When three people with different backgrounds combine as a team – it's exactly what a company needs."
This article explores the mission and story behind new startup Invisible Company, in discussion with Co-Founder Devana Ng. The second part of this interview will be published on the 3rd of October, and can be found here. Please visit the Invisible Company website for further details on purchasing the #INVISIBLEBAG.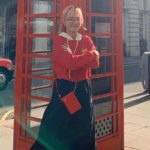 Karen is a journalist based in Hong Kong, London and New York City. She is a third year Liberal Arts student at King's College London, majoring in English and also studying Politics, Philosophy, Classics, Digital Culture, French, History and creative writing. She is a poet, photographer and musician, and is passionate about reporting on and discussing local issues and culture. Karen will begin her Master's degree in journalism at Columbia University this year.