After missing out on the postseason in a controversial and gut-wrenching 22-8 defeat to UCL despite topping the table all year long, King's College London's resident American Football team are ready to give UCL what they deserve at Varsity- a thorough battering.
Without further ado, let's meet the Regents:
Timi Adedapo- Cornerback #4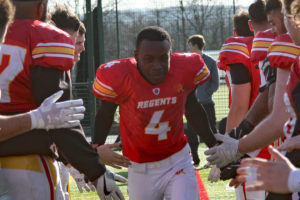 "Steals other peoples' pasta and protein powder"
Carlon Alfonso- Defensive Tackle #52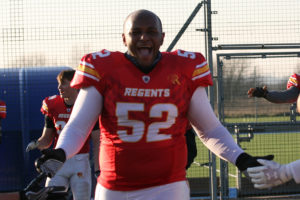 "Six foot five and 300 pounds of pure joy"
Nat Antrobus- Linebacker #18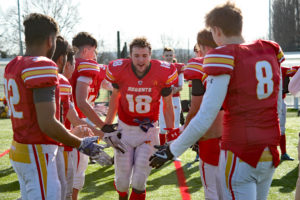 "Ivan Harrington 😍"
Munro Azumi- Cornerback/Safety #29
"Money Munro"
Noel Bahliby- Offensive Tackle #77
"Built like a fridge but you love him as much as… your fridge"
"Two pint" Toni Barriga- Offensive Guard #56
"Most improved pint sinker this season"
Adam Bowley- Wide Receiver #25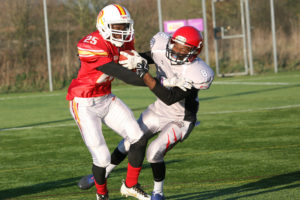 "How is he still playing uniball?"
Mackenzie Compton- Offensive Tackle #50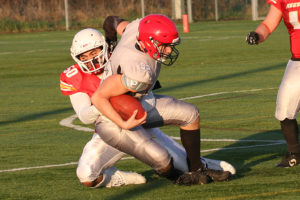 "Wears way too much eyeblack, has his own bedroom at the gym"
Rory Duncan- Linebacker #86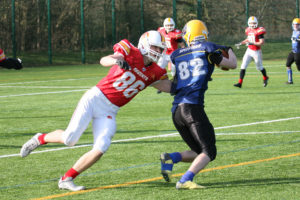 "Sesh monster who still turns up on Thursdays"
Karim Eid- Strong Safety #30
"Brings a whole new meaning to 'no fly zone' "
Feras Fayez- Defensive End #70
"Fried chicken consumption helps maintain speed and precision"
Samad Fazal- Defensive Tackle #54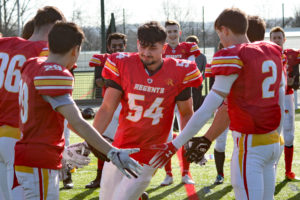 "Please come back from Christmas break relatively in shape"
Eugenio Gentile- Wide Receiver #14
"3yd gains but makes them look like world class plays"
Joshua Goldenstein- Center #55
"Why use your hands when you can just use your head?"
Dan Graycon- Inside Linebacker #40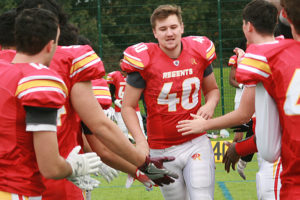 "Stop calling him 'coach' "
Christian Hachtman- Outside Linebacker/Wide Receiver #34 (Study abroad)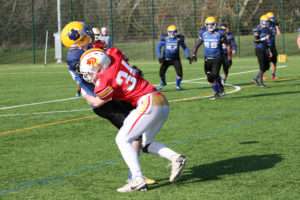 "Chris isn't a human he's an American football machine"
Ivan Harrington- Outside Linebacker #20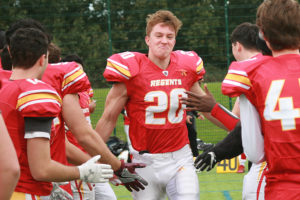 "Nat Antrobus 😍"
Jawad Homsi- Cornerback #44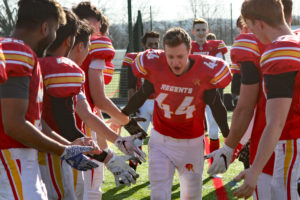 "Water bottle filling connoisseur"
Louis Jacques- Wide Receiver #47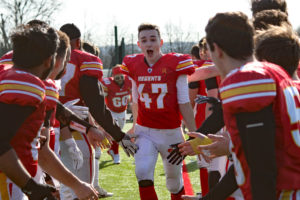 "Plays special teams for a 'special' reason"
Kevon Jones- Defensive End/Wide Receiver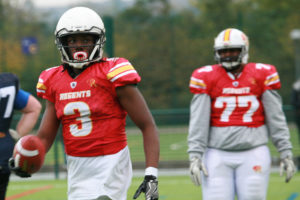 "Coach can I miss a rep? I don't want to be tackled by KJ"
Hassam Kashmiri- Defensive End #53 
"There's more than one type of green grass in this sport"
Levente Lakatos- Wide Receiver #81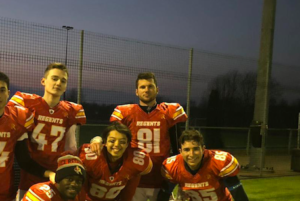 "I love Levi man, I wish he spoke English"
Daniel Menendez- Wide Receiver #85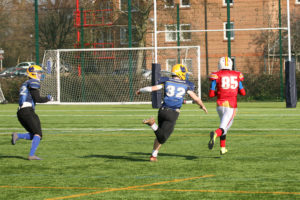 "Man I'm having such a bad practice" "Dan you missed two catches"
Maxim Monange- Running Back #19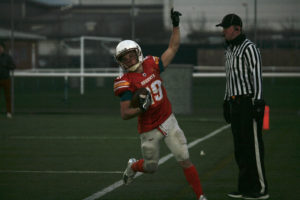 "Good wheels, on the field and down the pub"
Giles Moon- Free Safety #2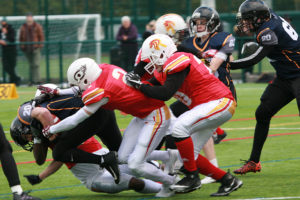 "Loves being shouted at so much he's made a career out of it in the Army"
Michael Omosule- Running Back #27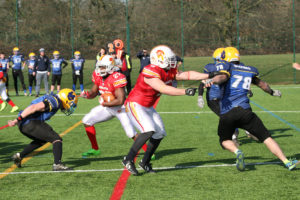 "I don't even know how long I've been at uni"
Avir Patel- Center #66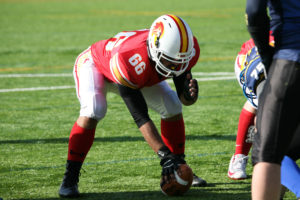 "35, divorced, 2 kids, can be found at Dover Castle every evening"
Andre Queirolo- Defensive Tackle/Wide Receiver #9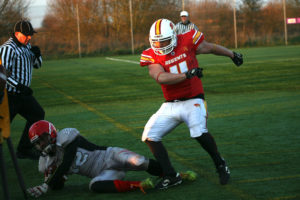 "Andre is your ankle ok?" "I can play coach"
Mateo Sanchez Garcia de los Rios- Offensive Guard #58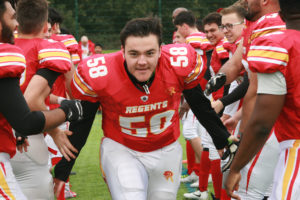 "Drinks ethanol"
Sean Seeds- Running Back #33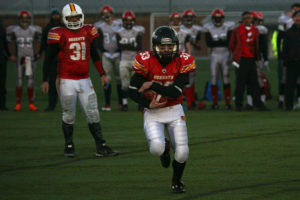 "He is one quick bugger"
Umar Shehzad- Cornerback #45
"Lover of parks and fences"
Taka Shirasu- Wide Receiver #80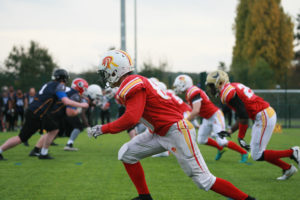 "Tiki taka for American Football"
Haris Shuaib- Quarterback #31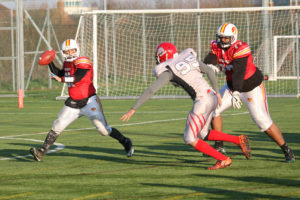 "DEFINITELY has baby mommas somewhere out there"
Jas Soor- Cornerback #32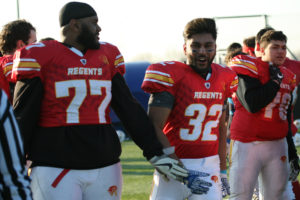 "Planes aren't allowed to fly over him in case he catches them"
Sunil Thakur- Right Guard #61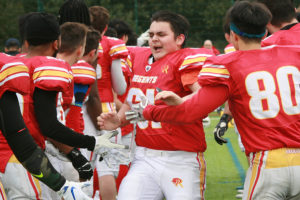 "The Indian fridge"
Ibraheem Umar- Offensive Tackle #75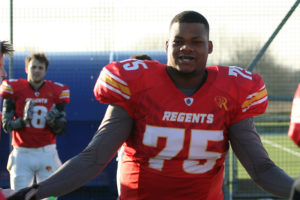 "80% baller 20% grillz"
Toby Visholm- Left Guard #60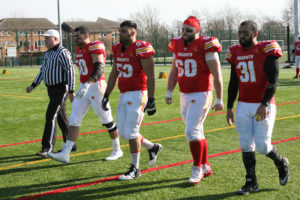 "Regents' resident doctor, collects degrees like Pokemon"
Alex Williams- Cornerback #28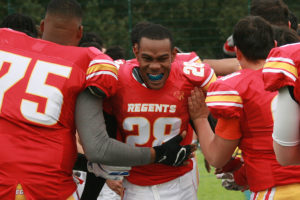 "Please don't call PI"
Isaac Woodman- Quarterback/Defensive Back #8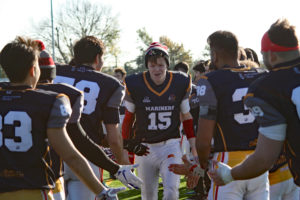 "The sideline soldier"
The Varsity matchup will be held at the University of Greenwich Avery Hill campus at 5pm on Tuesday the 12th of March, so come support your boys in red!