FILM STAR Gerard Butler was spotted speeding down Strand today as film crews descended on Somerset House to shoot a blockbuster action thriller.

Strand was placed in lock-down, with a huge helicopter parked in the courtyard of Somerset House, and swathes of people dressed as police on roofs around the cultural landmark.
Roar believes the film being shot was London Has Fallen, the sequel to Olympus Has Fallen starring Gerard Butler and Morgan Freeman.
Roar reporters and photographers slipped through the barriers to snap some closeups. Security at Somerset House said that Morgan Freeman was also filming and that the footage shot today would only clock up a few seconds on the final cut.
A man dressed as an armed policeman was seen chatting to film crew on the roof of the Somerset House from the War Studies department.
Several emergency services vehicles were also parked along the street, believed to be part of the production.
A caravan of film trucks were lined along Surrey Street as well as a firetruck which was spotted earlier emerging from Somerset House.
Members of the film cast were spotted grabbing lunch inside the Terrace in King's Macadam Building.
Other reporters were told by staff that a "police safety video" was being filmed.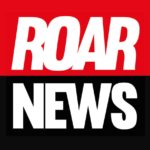 King's College London. Award-winning student newspaper, a platform to share your story, and a publication that holds entities accountable when no one else dares.