Roar Writer Karen Ng interviews Jonathan Javier, CEO and Founder of Wonsulting, a start-up dedicated to helping underdogs carve out their own successful career paths. Javier offers insightful advice for students and professionals alike, on the topics of networking and career building.
Roar: What does Wonsulting do?
Jonathan: Wonsulting started in January 2019, and its mission is to turn underdogs into winners. So, helping those who come from non-target schools and non-traditional backgrounds, and helping them get into their dream careers. So far, we've done over 130 workshops in under two years, in eight different countries.
R: That's impressive. What services do you provide?
J: Of course, our workshops, and our speaker series – we've had over 100,000 attendees, which has been incredible. We have our LinkedIn Strategies, which is extremely popular. What we try to do is teach students and professionals how to get into their dream job without applying for it. We have resumé revisions, Interview Prep, Finding Your Passion, and we also have a masterclass which we conduct every quarter, and it's been going really well. But the service we ultimately have is just helping people. We've helped probably over 100,000 people get into their careers.
R: Reading about Wonsulting's vision was what inspired me to interview you.
J: Thank you! It's been crazy, it's grown so much that I went full-time. I was at Snapchat, Google and Cisco before. So, I was in corporate, like, a comfortable life. Honestly, my philosophy is: if you're comfortable, you're doing it wrong. If you're uncomfortable, you're always learning. So that's why I decided, all right, let me take the leap, because this is something I'm passionate about. That's what I always tell people, all the time: if you're passionate about it, do it!
R: I'll take that advice too.
J: [laughs] That's what I'm saying. If you want to do news, do news.
R: What was your background before Wonsulting? What inspired you to go down this path?
J: This is great, I actually did a LinkedIn live yesterday, and I released that I'm doing Wonsulting full-time. And I talked about my whole entire life story – going back from middle school, when I was little – because what happens on LinkedIn, is that people will just talk about college.
How my underdog story is, well: I'm a Filipino, [born into a] lower-middle-class family, born here [in the U.S.A.]. I still remember how it all started. In high school, I remember where I would always judge myself based off the actions of other people. Meaning, I would get super depressed when I saw people having the coolest cars, or the coolest houses, or the coolest iPhones. And that really took a toll on me, because I would question myself: I'd be like, "Why am I not like these people? Why do I not have these amazing things in my life?" And that actually caused side effects and different actions. But at the end of it, I pushed through it, because of that support system aspect.
When I went to college, I actually still exhibited that because I went to UC Riverside, which is a non-target school. And at UC Riverside, I still remember the system would tell me, "Jonathan, you can't make it into a big tech company at strategy and operations, because of your background. You go to a non-target school, and you come from a non-traditional background." And at first, I believed that. I believed the system, and I was like OK, I'm just going to go and settle for less. When in fact, in my life, I've always tried to defy that system.
R: Right.
J: So, what I did was, instead of applying – because I noticed I applied to hundreds of jobs and never heard a response back – I networked on LinkedIn. Just networked, networked, networked. And through that, I as actually able to land my first job at Snapchat. In college, I actually didn't have a job lined up. But for some reason, I went to Goldman Sachs and Deloitte interviews in the final round, didn't get the jobs. But I keep the interview questions. I keep it and I share it with my peers, and I get them all jobs. People would ask me, "Jonathan, why do you do that, when you don't even have a job lined up?" And I told them, because I just love helping people. It doesn't matter about me.
And so, that is how Wonsulting started, because when I got into Snapchat, then into Google, I saw the people around me. They weren't like me: they were at the Harvards, the Stanfords, the Ivy Leagues of the world. And that's when I felt like there was a gap between the non-target – the UCRs of the world – and non-traditional backgrounds – international students, etc., and the top companies. Because, if Wonsulting could give that hope to people – not only hope, but action – then that's what's important. Especially in today's society, where we need that during Covid-19.
The only reason why I worked at Snapchat, Google and Cisco, is because I just wanted to prove to people that you could get into these companies, whether it's in regard to your background – it doesn't even matter. You define your own hard work and ethics. It's all dependent on your own mindset.
R: Your success story is really an example to show Wonsulting is going to be successful.
J: Yeah. I just love helping people, that's the recap.
R: That's really inspiring. How would you advise students to network during this pandemic?
J: It's very simple. You just ask for help. And why I say this – I actually talked about this in my post today. I don't know about your background, but my background – especially coming from Asian culture, it's taboo to ask for help or ask strangers for help. When you're networking during these times, you've got to realise that number one: people are willing to help. People understand, and empathise if you've gotten your job rescinded, or you've been furloughed. They understand. You reach out.
And the thing is, people are scared of rejection when they reach out. But the thing is, there are going to be people who don't respond. But then there are also going to be people who do. Are you going to focus on the people who do respond, or are you going to focus on the people who do? The people who do respond are the people who are going to lead you down that path towards your career, and help you make your dream into reality.
And then last but not least, just using LinkedIn. What you do is you have to find a common ground. People were asking, "Jonathan, I don't have a common ground with anybody." In transparency, we all have common ground. You know why? Because we're all human. We're all affected by Covid-19 around us.
R: Very true.
J: That's why you find common ground with people all around us. For example, you come from Asian descent? Same with me. There's common ground. See what I mean? You just have to find common ground with someone and mention it. You go, "I see you come from this background, let's connect." That's exactly how you network: finding that common ground.
R: That's good advice. What would you say for someone who isn't necessarily a talker, or a people-person? I hear this amongst peers: "I don't know how to maintain the conversation." They might start off with common ground, but they find it hard to continue.
J: Good question. How did I start the conversation today?
R: With an introduction and some chatting.
J: So, this is actually kind of crazy, check this out: how I do so well on all my calls, is I'll do that [before the interview began, Jonathan talked about a new Wonsulting poster that had been made]. I'll do something like that, with the Wonsulting poster, but instead [pointing to the NBA and inspirational posters on the wall behind him] you see these posters behind me? Eighty percent of guys will ask me, they'll be like, "Oh my god, that's an awesome poster." Same thing with [referring to the inspirational posters] the Focus, Change, I used to have nine motivational posters behind me. I'd put them there on purpose because the first thing people say are "Hey, nice posters".
Why do I say this? As an introvert, imagine having something you enjoy doing, you have it on the back of you, and you're talking with someone, and they mention it. Guess what? Your first five minutes in your chat is literally about what you love to do, and they might like doing the same thing. We [referring to past Zoom calls] will talk about basketball for the first five minutes of our call. I'll literally be like, "Who's the best player out of these three?" and we'll talk about basketball. Why I share this is because, the way to break the ice – and if you're uncomfortable with speaking with someone – that's exactly how you do it.
See, the only reason why I actually have this, [holds up a Yoda toy] – when I was interviewing at LinkedIn, what happened was, I saw the guy, he liked Star Wars. I bought this, I brought it to the interview. We talked about Star Wars for the first ten minutes. You see what I mean? This is what I do. This is all of my life. I literally strategise in order to help people get into their careers with networking. But that's the whole thing, I tell you. Fifteen [US] dollars for these posters, but for a career into your dream company? Priceless.
The second part of this interview will be published tomorrow.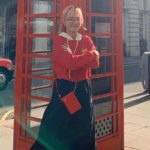 Karen is a journalist based in Hong Kong and London. She is a third year Liberal Arts student at King's College London, majoring in English and studying Politics, Philosophy, Digital Culture, Classics, and French. She is also a writer, poet, photographer and musician.