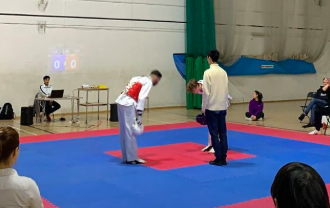 Having been blessed with a sunkissed first few days of Varsity (though not quite reflected by results), the rain and wind blasting London on Monday was an unwelcome change. Yet, come 7pm and the athletes clad in red were undefeated across the city all day – hope was building.
In come KCL Taekwondo, first-time winners at Varsity last year, serious fighters and all-round badass society. I could tell from walking in to the Somers Town Community Centre that they meant business; no demos, pre-game fancy tricks or unnecessary number of reserve fighters (save it for your AGM, Gower), they were here to fight. A best-of-five showdown awaited and boy were we in for a treat.
Mo took fight one by storm. He had no time for trickery and kept his leg high as he battered his hapless opponent again and again, setting the tempo from the first few kicks. A 25-point lead (mind the gap) was established a minute in and he never looked back, finishing the fight 68-43. W. The man himself told me afterwards that it wasn't even his full tempo (fair play), and that Kami's fight was the real one to watch. A true team player, this lad.
Next up was Kami, backed by some voluminous support from the benches behind her. A very tight contest ensued, both fighters matching each other kick-for-kick, with no more than a point between them for the entire first half, which ended 25-26. Both exhausted from an already tight affair, the two sparred on as Kami lost momentum – an eleven point chasm opened up. Then, with thirteen seconds left, Kami had had enough. One to the head and two swift kicks to the back and she magisterially levelled the scored in the final second. Time for a sudden-death tiebreaker. With all the momentum on Kami's side, I hate to say it but Gower got back to their old tricks. A high kick that made suspiciously no noise (come on ref I think Kami would know if she was kicked in the head) was called as a point and UCL took the game. Unlucky.
Next, Strahimja – fighting a British Taekwondo champion (gulp) walked out with a point to prove. He kept impressive pace with his opponent's lightning attacks to the head and maintained a ten-point gap until the half, where he visibly needed a lot of water. Fatigue had inevitably kicked in (pun not intended) and despite a strong final flourish of hits, Gower took the third game 62-43.
Onto Zak, who needed a win to tie the scores. The closest quarters fight so far, both fighters barely gave an inch – Zak creeping into a lead with a superb kick to the head midway through for a seven-point lead at the half. Yet, fatigue hit hard as Zak was slowly cornered into defending from numerous hits for a lengthy period of time, swinging the game to a UCL six-point lead. No complacency from our fighter though, who decided to hit back as hard as he took it, putting up nine unanswered points to take the tie 45-42. A refreshing W for the real London boys.
Finally came Eddy. Game 5. Varsity on the line (albeit really not his fault). The decider was clearly the highest level matchup thus far from the onset, as thunderous kicks battered each others' torso and head for all three minutes. Yet, faced with a Taekwondo champion (that guy again), Eddy simply couldn't keep pace and dropped to a 15-41 loss. Unfortunate but not his fault.
In fact, not anyone's fault (cheers ref). Some games already out of hand, we made more than an impressive account of ourselves and proved why next year King's will steal the trophy again. Watch your backs UCL…