Speaker Bella Glanville. Photo courtesy TEDxKCL.
TEDxKing's College London held their first event of the year, featuring five TED talks shedding light on the challenges of medicine in space, the different ways people show love, the specifics of mental health illness, the stigma around film studies and the need to redefine the word 'normal'.
The theme of the talks was "The Edge of Reason", a theme whose ambiguous character allowed for a plurality of ideas by speakers Sara Al Khaslok, Jack Sheppard, Bella Glanville, Joy Hamati and Lauren Church.
Speaker Sarah Al Khaslok. Photo courtesy TEDxKCL.
TED-talks, a cornerstone of idea sharing in our digitalized society, welcome "people from every discipline and culture who seek a deeper understanding of their world," as described on their website.
Most often seen featuring professionals who are experts in their fields, King's affiliate TEDxKing's College London instead chooses to feature speakers who are also King's students, giving a prestigeful platform to young voices in our community.
"We prioritise giving a platform to all those students around us who carry amazing ideas worth spreading but who just haven't been given a stage yet," recruitment officer and speech editor Olav Stavnem said.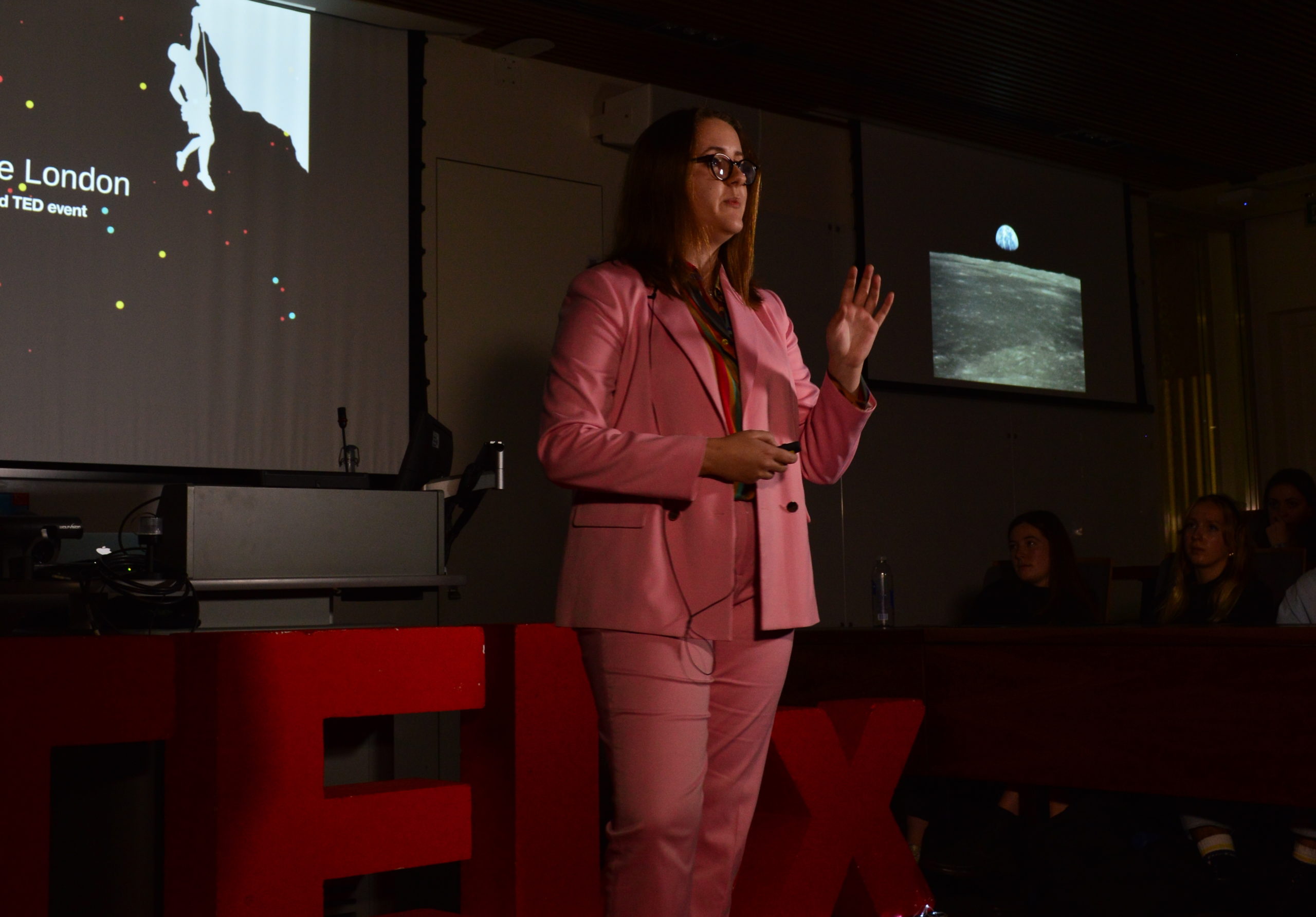 Speaker Lauren Church. Photo courtesy TEDxKCL.
For an affiliate TED-talk to be officially certified, it needs to fulfill an array of criteria. There is also a potential challenge for students to deliver speeches that are as developed as ones given by external speakers. 
"At no point are our speakers left to themselves in what can be a quite daunting prospect of giving a talk in front of 100 people. To ensure that all of our speakers hit the proper TED-talk ambience, my job, as a Recruitment Officer and Speech Editor, has been to meet with the speakers on a weekly basis to help them edit and structure their texts, practice articulation and gesturing," Stavnem said.
Speaker Joy Hamati. Photo Courtesy TEDxKCL
Speaker Jack Sheppard. Photo courtesy TEDxKCL.
Stavnem was pleased with how the event went overall. 
"Let me put it like this: I saw tears during Sara Al Khaslok's speech about rewriting the definition of normality, I heard everyone laughing while Jack Sheppard charmed us with his defense of the importance of film studies, I saw people nodding to Joy Hamati's original allegory that taught us the reality of mental health illnesses, I heard people discussing their love languages after Bella Glanville's talk about personality types and I saw amazement in people's eyes when Lauren Church gave us a feminist perspective on the future of space medicine," Stavnem said.