'National Demonstration for Free Education' takes to the streets
A demonstration organised by The National Campaign Against Fees and Cuts (NCAFC) took to the streets on the 15th November, to demand "free education" for all. 
The NCAFC, a grassroots student activist organisation, seeks to "tackle the marketisation" of education as well as wider cuts to public services.
In protest against fees and cuts, the group set up shop next to the University of London Union to stage their campaign entitled #FreeEdNow.
The demonstration welcomed an estimated 60 student unions to the event, and drew wide-scale attention, even gaining online backing from Labour leader, Jeremy Corbyn.
Whilst Corbyn noted that he 'supports the demonstration for free education organised by the NCAFC' and that the 'Labour government will deliver it', Caroline Lucas, co-leader of the Greens also took to Twitter to state that free tuition was a '@TheGreenParty policy for many years' whilst expressing her support for the campaign.
At the protest, Roar spoke to Ruby Dark, a member of the NCAFC and a Liberal Arts student at King's College London. She outlined the aims of the protest as threefold: "An end to campus cuts, which has seen devastating cuts to courses, an end to staff losses and student services, and an end to all tertiary education fees for all students (home and international)." Dark additionally stated that free education is "no longer a fringe demand…it is a mainstream message," as well as noting that students are "milk-dried by debt and tuition" and should no longer be ignored in their demands.
KCLSU was a strong force at the protest, and in attendance was Imraan Ashraf, KCLSU VP for Welfare and Community. Ashraf supported the points made by Dark, adding "the government is so comfortable in treating us like consumers, using universities as a place of marketisation."
With the cost of living rising sharply, not only in London, but indeed across the country, the issue of tuition fees remains a core issue for students, not only from this country, but additionally, those who are international.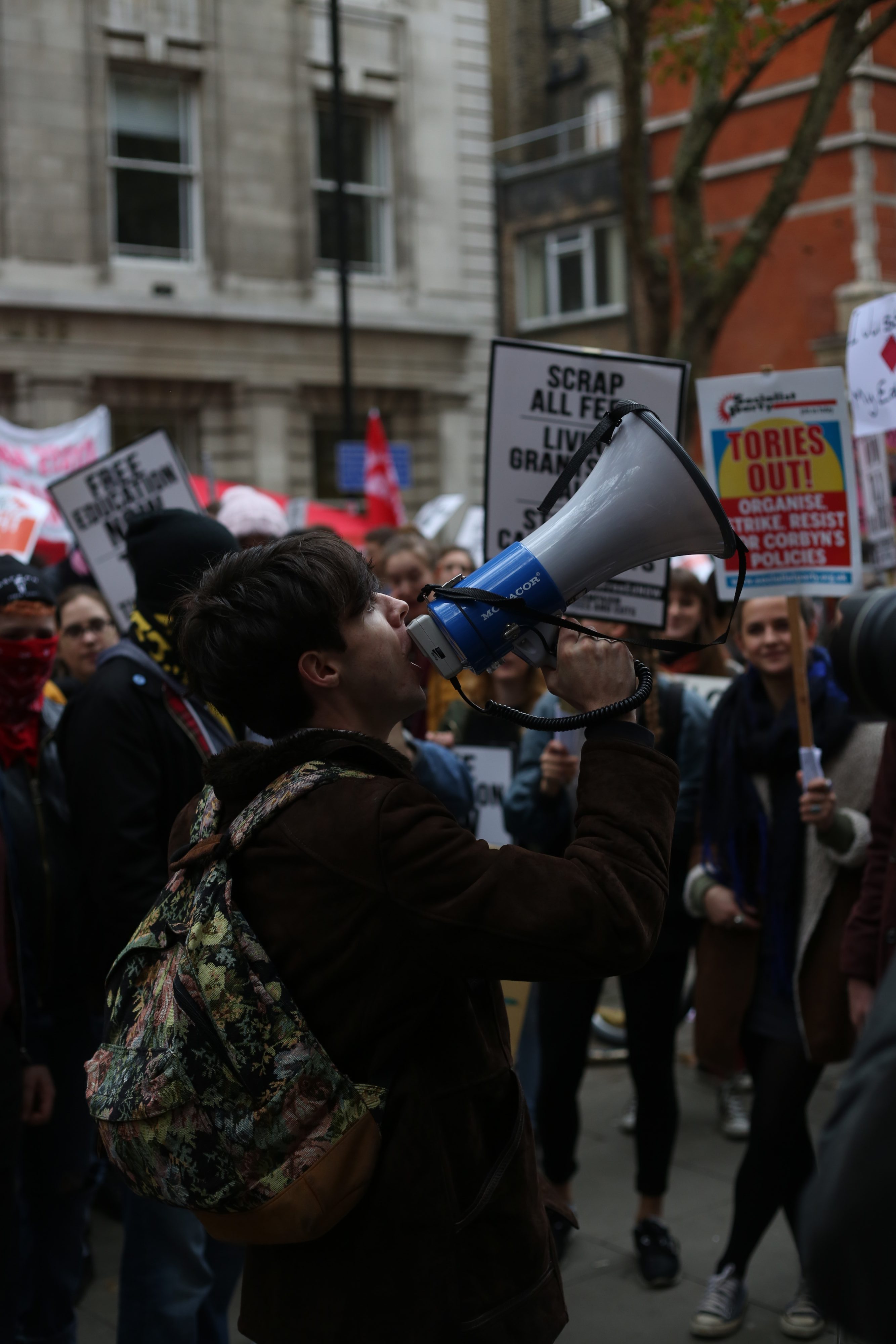 Tayyaba Rafiq, a third-year International Relations student at the College, however, took the time to correct what is believed to be the often incorrect assumption that international students are significantly wealthier, thus able to afford higher tertiary fees than 'Home/EU' students.
"We treat international students as a homogenous block," Rafiq stated, "International students don't get the support they need, and this has led to a number of international students dropping out."
Notably missing from today's protest was NUS president Shakira Martin, who did not offer her backing. NCAFC member Ruby Dark described this as "a shame", calling for more people to support the cause that appears to be at the heart of university students across the country.
The NCAFC has estimated that over 10,000 students attended today's protests, ranging from nearby London universities, to the far-flung Edinburgh Marxist Society who appeared in London today to give their support.
Undoubtedly, traction for the student protest is growing. We only have to look at the recent boycott of the National Student Survey to see this in action. And with NCAFC members refusing to be ignored, it appears there will be even more calls for a louder student voice in the future.
Photo credit: Abdi Alasow, Jared Phanco, and Shrai Popat