King's Hostile to Free Speech but in Good Company
Recent controversies over King's College employment of "Safe Space Marshals" has left the university with the lowest rating in Spiked Online's Free Speech University Rankings, scoring 'Red' in their tri-category stoplight system.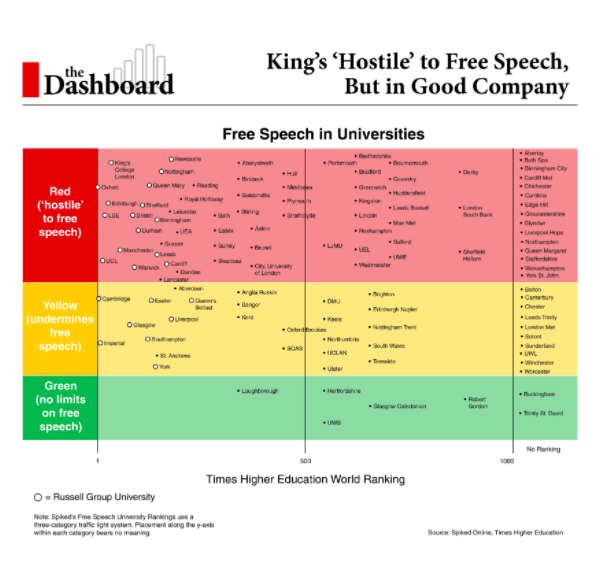 While the "Safe Space Marshal" policy has been in place since 2013, it was only picked up by the Daily Mail this past October and has since rapidly circulated through a number of news outlets.
In its job pack, the KCLSU describes the role of a Safe Space Marshal as someone who "will attend KCLSUs student groups' events which have been risk assessed as having potential for a Safe Space breech."
One such event was the recent talk given by Conservative MP Jacob Rees-Mogg this autumn, where five Safe Space Marshals were on duty.
When asked to explain the policy, KCLSU President Momin Saqib said: "The role of the Safe Space Marshal is to ensure the Safe Space policy is upheld and to implement safeguarding and handle any breaches or complaints with regards to Safe Space."
"It is essentially an anti-harassment policy protecting both our students and the speakers they invite," adding that "KCLSU has never banned a speaker from speaking because of our safe space policy."
In justifying their score, Spiked cites several suppressions of free speech, including the supposedly censorious Trans Equality Statement, the recent removal of former Archbishop of Canterbury Lord Carey from the alumni wall for his homophobic views, and a Breitbart News article that said a member of the KCL Israel Society was "threatened at his own event" by a Safe Space Marshal.
In the growing concern over censorship at universities, KCLSU's Safe Space policy is but a cog in the wheel as debate on free speech has gained traction with each new campus controversy at universities across the country.
In 2015, Cardiff students petitioned to prevent the feminist Germaine Greer from speaking because they found her views transphobic, and last year Archaeology students at UCL were given the option to walk out of modern conflict lectures due to topics that may be "traumatising, even disturbing."
King's shares its red status with UCL, LSE, and 70 other universities. Only seven universities score green, including several notably obscure ones such as Robert Gordon and the University of West Scotland, with none of the Russell Group given the green light.
King's certainly has some reckoning to do over where to draw the line between safe spaces and censorship. On the other hand (with apologies to Robert Gordon), controversy may simply be an inevitable by-product of being a world-class university.