King's marking scandal: 10 anonymous quotes from struggling graduate teachers
THOUSANDS of students are unknowingly receiving shoestring education as King's teachers are unable to cope with the impossible demands of the College.
Yesterday, Roar exposed the pressured culture of corner-cutting inflicted on overworked and underpaid graduate teaching assistants (GTAs). Some teachers are expected to mark 9,000 words every hour while others barely manage to prepare seminars.
Hundreds of GTAs spoke of their anonymous experiences in a survey by fellow teachers. So far King's have refused to comment, but that hasn't stopped teachers putting their thoughts down:
"My students cannot receive the standard of teaching or feedback that they expect or deserve, or that the university promises them, unless I consistently and persistently work extra hours for free."
"If I spend 90 minutes marking a bad paper then I end up getting paid £3.10 an hour. Since I can't afford to work this way I compromise by spending less time, and offering less detailed feedback so the student suffers."
"Furthermore, as there is not time assigned for marking training, if we have not done it before we have to teach ourselves and have no guidance for whether we are doing it correctly or not (apart from being told to ask a colleague, which would eat into their time and they might not be willing and neither party would be paid)."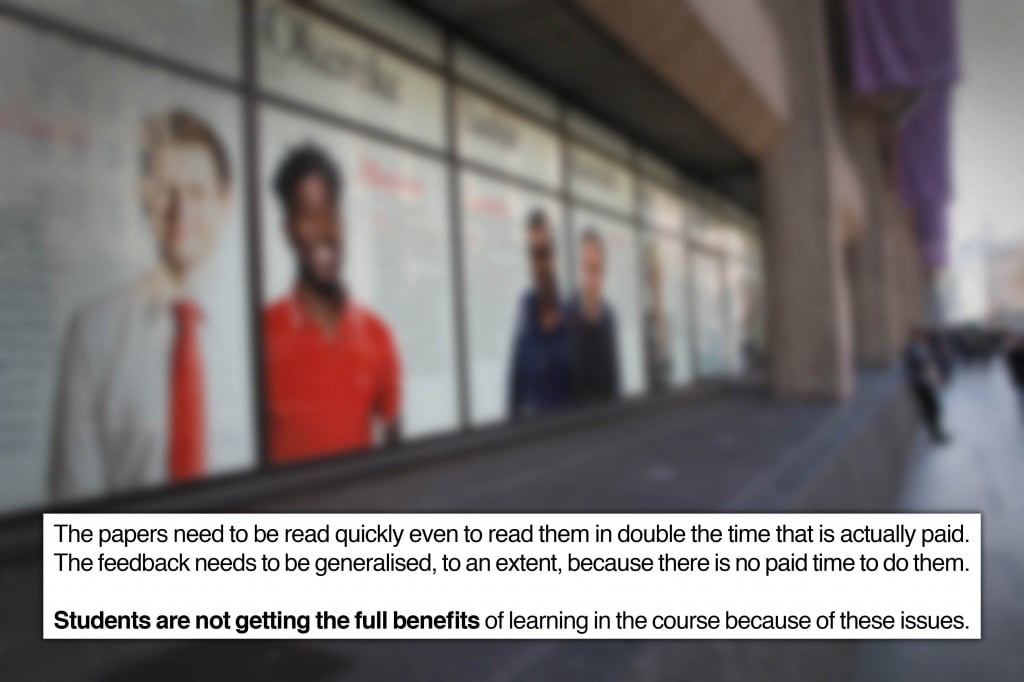 "The papers need to be read quickly even to read them in double the time that is actually paid. The feedback needs to be generalised, to an extent, because there is no paid time to do them. Students are not getting the full benefits of learning in the course because of these issues."
"If I were to stick to the hours I was contracted for, I would prepare perhaps a quarter of the required reading per week and mark a third of the essays with reduced feedback."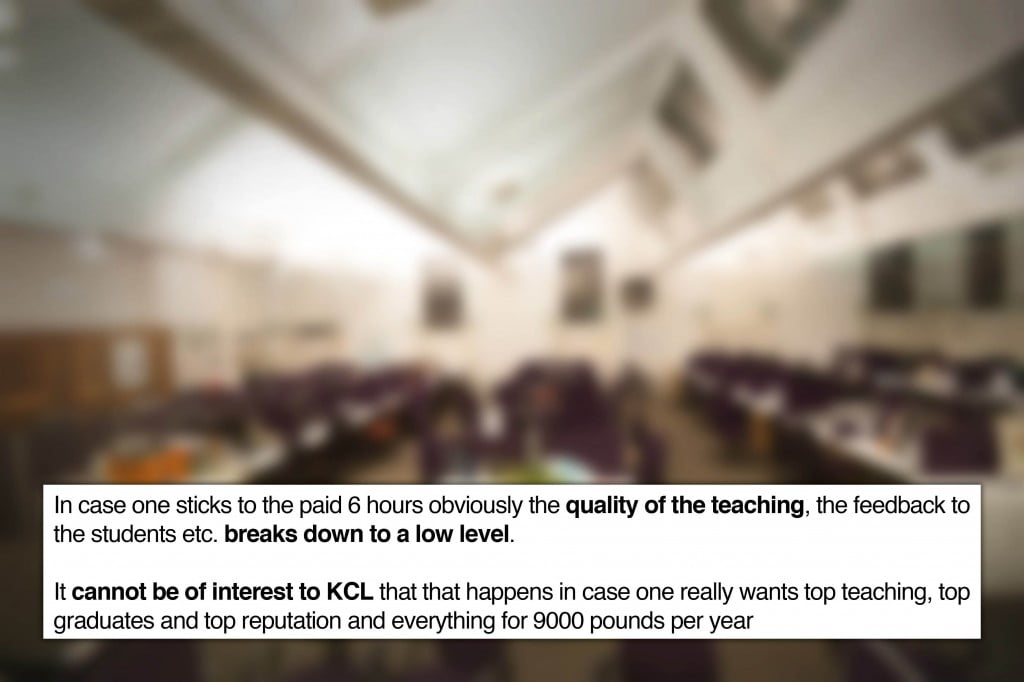 "In case one sticks to the paid 6 hours obviously the quality of the teaching, the feedback to the students etc. breaks down to a low level. It cannot be of interest to KCL that that happens in case one really wants top teaching, top graduates and top reputation and everything for 9000 pounds per year."
"GTAs [graduate teaching assistants] and other casualised labour are used to cut costs – perhaps reducing the quality of students' experiences, or perhaps just exploiting the GTAs. We are too often not used as 'extras' but as actual lecturers, yet without the fair pay or levels of experience."
"It's not possible to mark a lab report in one hour. I have been doing this for 3 years now and got fairly fast and efficient with it and by now really do know my subject. But providing the student with helpful feedback while ensuring you mark the student fairly is not possible in one hour. I can barely check if his calculations and results are correct in the short time allocated for marking and feedback."
"It's a huge amount of work which is appallingly paid. Frankly, I treat GTA teaching as an act of charity."
Photos by Johnny Tam. Reporting by Luke Terheyden-Keighley and Dulcie Lee.