Roar writer Dafne Selimoglu on Rodin's works displayed at Tate Modern.
The Tate Modern is filled with artists clutching their notebooks as they stare at Rodin's work in admiration. Capturing a range of emotions in clay is not an easy task, yet one Rodin does perfectly. The piece at the exhibition that struck me as most emotionally complex was the head of Pierre de Wissant, one of the men from his other piece "The Burghers Of Calais" which had been enlarged for viewing as an independent piece. The head of Pierre de Wissant expresses pain and suffering in a very realistic way, which had people gathered in front of the piece to discuss it at depth.
Rodin puts great importance on detail and is one of the best at capturing authentic human emotion. To him being sad does not only exist in the face but instead in the whole body. This made his work stand out and helped him gain the interest of the public:
"What makes my Thinker think is that he thinks not only with his brain, with his knitted brow, his distended nostrils and compressed lips, but with every muscle of his arms, back, and legs, with his clenched fist and gripping toes." 
His piece "The Age Of The Bronze" received some backlash as his work started to be questioned by people. They couldn't believe Rodin was able to create such realism in his work and accused him of casting his subjects directly instead of making them from scratch. Rodin, as a response, pointed out the slight imperfections of his work compared to his model by using photographs. This experience was significant in the development of his career as he vowed to make sculptures that emphasised the imperfections of the human body.
He started sculpting people as he found them instead of improving upon them. He believed that an artist who tries to improve upon what is naturally there adds "green to the springtime, rose to the sunrise, carmine to the young lips…creates ugliness because he lies." [Rodin on Art and Artists, Conversations with Paul Gsell]. This highlighted the importance of naturalism in his work.
His most widely known work "Thinker" can be found in many different countries as copies of the original work were made, versions of it in different sizes rest near each other in the exhibit. The first version of the Thinker rests on the top of his work "The Gates Of Hell" which was Rodin's first commission by the government for the a museum in Paris. His work was left unfinished, however, as the plans for the museum fell through. Rodin made "Thinker" an independent work in 1888, which is now his most famous and replicated piece. 
Another one of his acclaimed works that is exhibited in the Tate is "The Burghers Of Calais". In this work, he takes subject the six men who sacrificed themselves for the rest of the townspeople when the French port of Calais was besieged by the King Edward III of England in 1346. The six men heroically volunteered themselves for death and were ultimately spared. In 1885 Rodin was asked to create a monument for one of the men, Eustache de Saint Pierre but he refused and created "The Burghers Of Calais". Unlike classic monuments which took subject one hero, he took on all six of them. Rodin intentionally exaggerated the men's feet to display the pain and fear the men felt as they walked to their deaths. The piece was also intentionally placed on the same view point as the viewer to emphasise their humanity.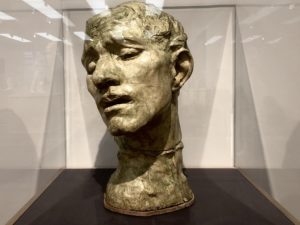 It is obvious in all of Rodin's work of how important and intentional each detail is. In 1900, Rodin was working as an internationally acclaimed artist as his naturalistic and detail-oriented work still guides many artists. This is a simple yet impressive exhibition and one not to miss. Pictures of Rodin's work don't do it justice; it is best to go and see it in person at Tate Modern and experience the complex emotions of each sculpture.