Roar writer Camilla Alcini interviews pop artist Richard Zarzi on his work and inspirations.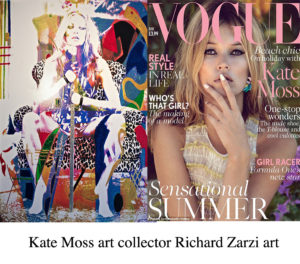 Born in St. Tropez, Richard Zarzi is an explosion of dynamism and pop culture. Influenced by his career in the fashion industry, he later established himself as one of the world's most renowned pop artists. Playful juxtapositions of characters and backgrounds, along with a sophisticated touch and particular colourways, distinguish his style. For him, his art is an opportunity to imitate and counteract the work of nature, as well as a celebration of the glam of modern society. Roar asked him about his art, his inspiration, the pandemic and advices to your artists.
Roar: You are considered one of the five best pop artists in the world. How would you describe pop art and what is fascinating about it from a contemporary perspective? 
Richard Zarzi: Pop art, for me, is the reflection of societies today. Consumerism system created consumerism art. Today the evolution of art is ultimately pop art. The "Conceptionnel Art" is castrated art. 
If you asked me to define pop art, I would say it is composition, beauty, spirit, technic, qualities and messages from and for consumerism. Artists from the past were talking about the same things through the filter of their time and society. 
R: Your art spaces among different fields, but your special focus is fashion. In your opinion, what kind of possibilities does the fashion industry offers to artists?
RZ: My art is all about societies. Icons, religion, fashion. I have been working for many years in fashion and luxury industries and I was impressed by the beauty and quality of these items. As a consequence, I decided to create a new kind of art, which can be seen as a continuity of pop art. Indeed, pop art talks about consumerist products and consumerist icons, but I am talking about luxury. But the evolution of societies brought luxury into consumerism, and eventually art as well. Before, these two things were exclusive to the wealthier, now many people can afford some luxury items and some pieces of art. The ability of being affordable gives everyone a chance to grow in this perfect system, which is made to grow with qualities for ourselves.
R: What is your inspiration? Do you have a particular place, memory, person, era, from which you get inspired?
RZ: I am the luckiest artist in the world for the inspiration. Love is my inspiration! I tend to work like an artist from the past. Perhaps the artist from the Renaissance, who channelled love through their brushes. Where have I found Love? In the Muse! My Muse, Cara Delevingne.
R: What would you say to young artists who are trying to express their art in such a difficult moment for the whole sector?
RZ: Art is for people who have something to express from their heart. Art is all about Heart and Love, it has nothing to do with money. These times are difficult, not just for the artist, but for everyone else. What we need is to stand together, because life is all about Love. 
Artists, they are struggling… What I really recommend is for them to find a small job. With that small job, you learn so much about life and develop all the qualities necessary for life to put yourself together. Only when yourself is together, you can make great Art.
R: How has the pandemic affected your art, if it has?
RZ: Yes the pandemic considerably affected my art. It brought to me to the deepest part of myself and I believe my art grew so much. 
R: What are your proudest works of art?
RZ: My achievement is that my career has reached this level which makes me proud of myself. It was and still is, a long journey. But I haven't achieved what I really want to achieve yet.
I would love to channel this very strong message that I have in myself, to share and understand the true meaning of Love. The biggest purpose we have is to work and develop qualities in ourselves to achieve the next level of consciousness, to be proud and eventually, achieve true happiness. 
R: Take us through the process of creating your art. How long does it take, from the idea to the realisation?
RZ: I don't really have a process to create art; I work with intuition. The technique is to paint with acrylics, oil and diamond dust on canvas. I do sculpture as well and Conceptionnel art sometimes. I have two kinds of art, pop art and fine art, each have a different process always led by my intuition.
Richard Zarzi is represented by the Whitehall Galleries in London, with galleries in Kings Road, Westbourne Grove and all around UK.