Roar writer Matthew Seaman reviews Billie Eilish's "Where Do We Go?" The Livestream concert.
Where would you go to find a shark, an animated rainforest, a yellow Porsche and a giant spider? Billie Eilish's virtual world, of course! Saturday 24th October saw a one-off live-streamed concert from the eighteen-year-old international music sensation. Millions of fans tuned in to watch what was anticipated (by Billboard) to be 'one of the industry's biggest live-streamed concerts yet.' But did it live up to the expectations, and was it worth the $30/£23 (plus booking fee) ticket price?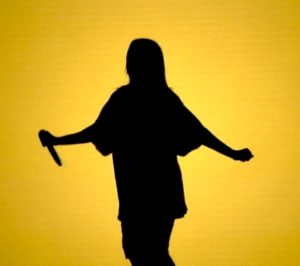 "Where Do We Go?" was full of motifs, some political, all emotional, and many familiar. Eilish's album, When We All Fall Asleep, Where Do We Go?, inspired by the Australian horror movie, The Babadook, fed into every moment of this XR (extended reality) experience. We know how much of a self-professed visual artist Billie is, and this evening was more than a testament to that. For a modest one hour, we were allowed an insight into her mind, and despite watching from our sofas, we experienced a somewhat immersive compromise between a real-life show and an abstract music video.
The 'extended reality' of the event meant that Billie could begin a song standing in a blank, empty space, and end up sitting on top of what appeared to be a high-rise tower block, or even beneath the ocean. This certainly made for a thrilling hour, and one that was authentically 'Billie' in every way possible. There is no doubt it was a success amongst the fans.
Before the show began, a virtual 360 degree merchandise store launched on the website. This included t-shirts with repetitive designs, mainly featuring Eilish's face, all priced at $30 and above, and hoodies priced at $70. Whilst I understand the excitement of limited edition stock, I can't help but think the artist herself was all but involved in this element of the production. Billie is certainly known for personally designing some unique clothing in collaboration with her label, Blohsh, and with other designers, most notably Takashi Murakami, but these exclusives seemed to lack flair. The virtual store was replaced by a pre-show at 10 p.m. BST, the closing moment of which teased the upcoming documentary film, The World's a Little Blurry. All bar a hitherto unseen clip of Billie's brother Finneas and her enjoying a playful interaction in their studio, there was nothing overly new in this lead-up to the concert.
The concert itself was a hit! Although the fee was more than I often pay to go and see live theatre, we are in a strange time and a new experience like this was certainly needed, especially for Billie Eilish fans. Billie took us on a journey through her mind, accompanied by her catalogue of songs from her debut album, a blend of slow and upbeat tracks. Whilst I would have quite liked to have heard more from her first EP, Don't Smile At Me, which contained some of the songs that shot her to fame, what we did get was class. Billie has a beautifully rich voice, complimented perfectly by her brother's talent, both of whom shine on stage. This combination was showcased well in the song "i love you", which didn't fail to bring a tear to the eye.
No more technical difficulties, sync-issues or questionable sound quality, like we've all experienced on Zoom; this was another level of virtual performance. It really did feel as though we were immersed inside one of Billie's music videos, in all-too familiar settings, yet simultaneously wholly reimagined. We were treated to the new Bond song, "No Time To Die," and Billie's latest releases, "Everything I Wanted" and "My Future," both singles we expect to see on the next album that her and Finneas teased during the show. Admittedly, it was a shame it didn't go on for longer, but sometimes there is a risk that when something is dragged out, the audience can become complacent. I certainly enjoyed every second and didn't take one moment for granted.
Aside from the technical wizardry of the XR environment, the show had a personal element. During one number, a wall of fans was projected as a backdrop to the stage, each one individually lip-syncing and silently expressing their adoration for Billie. It was a sweet touch. I spoke to one fan, @iloveyou.bils on Instagram, who said: "I didn't even notice [I was on the screen], someone sent me it… I'm screaming."
Billie repeatedly referenced the upcoming US election, a topic that was intermittently present in the pre-show too. At first the references were subtly partial, but by the end of the show, American viewers were being encouraged to "vote out the orange man," the kind of comment that you can't (and wouldn't want to) avoid with Billie in the spotlight.
"I miss you" was another repeated phrase throughout the show, with Billie's love and affection for her fans, and for live music, shining through more than anything. To quote her closing words: "During quarantine, I feel like I realised… on stage is the only place I feel like I'm myself… like I belong." This was followed by the incomparably catchy hit "Bad Guy" to conclude the show.
Billie Eilish's world tour is being rescheduled for the future. Billie Eilish: The World's a Little Blurry documentary comes to Apple TV+ in February 2021.