In this three-part article, Roar writer Karen Ng interviews Ray Yeung, the director of Suk Suk (叔.叔). Part 3 looks at the wider message of the movie and how the adversities faced by the LGBTQ+ community should be addressed.
"Not all families are wonderful"
I ask Ray Yeung what he wants to express about Hong Kong families through Suk Suk. How do tradition and inter-familial relationships affect LGBTQ+ people? "Many Hong Kong families still follow the Confucius tradition. You have to respect your elders. Everybody is living in a harmonious situation; nobody wants to upset anything. On the other hand, people do live in a modern society, so that kind of teaching is very dated. You always have that tension. I think that's reflected in a lot of families [in the movie]: in Pak's family, there is more of a happy family, but still there is tension. But in Hoi's family, the tension is more exaggerated. Hong Kong is just small; everybody lives in a small apartment. Even though you are much older you still live with your family, because who can afford living outside on your own, right?" For reference, Hong Kong's housing market is the world's least affordable.
"So, if you have a secret, I have a secret. We kind of know about each other's secrets. But we cannot address it, because it would be too raw. If you address something, it will blow the whole thing up. When you do not address the elephant in the room, yet it doesn't go away, then of course that tension is like a pressure cooker. It will just keep cooking and cooking and cooking. I just want to reflect that in the movie. Not all families are wonderful."
I recall the viewing I attended, and the critical response towards Wan nagging his father. In one scene, Hoi presents his granddaughter with dessert, but Wan takes it away from both of them, stating that they shouldn't eat sugar before bed. "It's interesting that a lot of people say, 'Why is the son so bad to the father?'. Actually, the way he expresses his care may seem a bit blunt, but I really care about my parents…I can't remember being bothered to take all their photographs and put them all into the computer. I mean, that is a sign of care, that is a sign of love. And everything that he said to his father, in a way, makes sense. You know, it's the old way of bringing up someone and the new way of bringing up someone. There is that tension as well. It's funny, because a lot of people said that to me, but a lot of the times we talk to our parents in a worse way!"
Religion in Suk Suk
Wan's family is Christian, and I question whether highlighting their religion held significance. Yeung nods. "A lot of [the elderly men I spoke to] have a religious background. So, I said, 'Do you find it interesting that sometimes people think that religion doesn't really agree with homosexuality? How do you deal with it?' In a very typical manner, they said, 'Well, the things you believe, that you think are good, you take it. The things you don't need, that you think are going to obstruct you, don't take that.' They take and choose, in a very practical way. But I think it also shows if you are gay, your life is difficult in even that way," Yeung contemplates. "For a heterosexual, if you find a religion that speaks to you, then you can rely on it. If you are gay, if you find that religion and that religion is against your basic desire, then you can't truly embrace it. So that is hard. Let's say, a cancer patient wants to believe in God in the last days of his life. If he is a heterosexual, he can do that and be happy. But if you are gay then you think: 'I want to believe in God, but maybe God knows I'm gay, so how am I going to deal with that?' Even then, at that stage of your life, when you want something to rely on…That is still going to be an issue."
Then, does religion play any role in stigmatising the LGBTQ+ community in Hong Kong? "I think to a certain extent. People on a daily basis might get along or turn a blind eye, but if there's anything that they feel threatens the status quo, they will use religion as an excuse. Like 'We have to protect our children from the gays' or 'God didn't do this, God didn't say that.' It's not the religion that is stigmatising LGBT people, it's the use of religion. [Christianity] isn't supposed to judge, you're supposed to love everybody. So why are people judging and not allowing people to enter [the religious community] to be loved by God? That doesn't make sense to me. You are supposed to be good; everybody is supposed to embrace everybody. But there are conditions. God isn't supposed to have conditions."
Taking the story beyond the cinema
Why does the movie end on an open ending, with Pak sitting pensively in the church? "If you have a definitive ending – they're together, they break up – then the audience can go 'That's finished, that was good, I like the ending, I don't like the ending' and they walk out and forget about the movie. I don't think a movie should be like that. I think a movie should question, raise questions, and the audience should answer them."
As opposed to passive viewers who leave the film behind as they leave the cinema, Yeung emphasises the importance of audience involvement with the movie's message. "They should bring themselves, their own experience, judgement, philosophy of life, and think: 'If I were Pak, would I go back to my family knowing I now have completely different knowledge about myself? Or would I call Hoi and have a secret affair? Or would I come out?' I think we should start thinking about that. And if [the viewer] thinks 'I would come out' then who would you hurt? What would be the obligations? What would be all the other alternatives? I want the audience to think themselves – not have dinner and forget about [the movie] – because the subject matter is not something that's historical. It's something that's now. All these older men are still in the closet. The world is still very homophobic. We need to talk about these things. It shouldn't end, because the problem is existing. Why should I end the movie when the world is still having all those issues?"
As the interview ends, I ask Yeung what he wants to share with Hong Kong and the world through Suk Suk. "Well, I think for people to listen, empathise, and embrace people having different opinions. People have different situations. Be less judgemental, and just listen more. Everybody is just trying to do something positive, but let's just embrace them and listen more. I think shutting people out, not listening, having a very narrow vision, will not get you anywhere. It certainly won't get you towards a more sophisticated society. It will just take you to a society that is less sophisticated."
This fulfilling interview details the real-life inspirations of Suk Suk, and explores Ray Yeung's thoughts on filmmaking, queer representation in HK cinema, religion and family.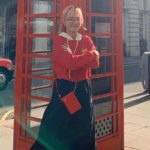 Karen is a journalist based in Hong Kong and London. She is an incoming third year Liberal Arts student at King's College London, majoring in English and studying Politics, Philosophy, Digital Culture, Classics, French as well as history and anthropology. She is also a writer, poet, photographer and musician.