In this three-part article, Roar writer Karen Ng interviews Ray Yeung, the director of Suk Suk (叔.叔). Part 2 explores the filming process of the movie, as well as the ways Yeung integrated different messages into his film.
Stories from the filming process
Suk Suk's leading men, Tai Bo and Ben Yuen – playing Pak and Hoi respectively – are well-known veteran actors. I asked if there were any moments of improvisation during filming. "A lot of the time on set, what we actually did was cut out a lot of the lines. As you can see in the movie, there's not a lot of dialogue, because all the actors are very good at suppressing their emotions. A lot of the dialogues became redundant to me." He elaborates, "I want realism in this movie, almost documentary style, in a way. In the wet market when they were shopping, it was very simple in the script. I just wrote that they go to vegetable stores and bargain about the price of vegetables. That's all I wrote in the screenplay for that scene. When they got there, they just improvised with the vendor. That makes the whole thing have a livelier atmosphere. I think that was really most of the improvisation we did."
What does Ray Yeung think about queer representation in Hong Kong? "It has improved a little bit. [In movies] the representation is less blatantly negative. But considering Hong Kong makes a lot of movies, the representation is very low. In mainstream movies, they very rarely address the issue, except as a queer plot point or comic relief. On television, there's no representation at all, and if there's any, it's always negative. We asked if we could go on talk shows and talk about our movie, and they said the subject matter is not really appropriate."
Yeung also runs the Hong Kong Lesbian and Gay Film Festival. "We're the largest running LGBT festival in Asia. This year's [festival] will be smaller [due to the virus], because we don't have any sponsorship. It's all run by box office – all these years and no government funding. For a small festival, it's amazing how we've managed it. We were able to invite directors every year."
A deeper look at the film's messages
As a viewer, one scene Yeung mentions stood out to me the most. In it, Hoi invites Pak to his house when his son is away, bringing about a moving depiction of the family life they might have enjoyed in a better society. Alongside the suppressed nature of their relationship, Suk Suk emphasises both men's strong commitments to their families. "When I was writing the script, I was thinking: what could two elderly gents do when they have a day off to be romantic? In a classic love story, for younger people, they go to a funfair, get on a rollercoaster…That kind of thing is so bizarre for [Pak and Hoi] at that age. What do they really want? A simple day, like any heterosexual couple, to just stroll in the market, buy some things, go home…Very nice, warm, domestic." He points out the intended parallel between an earlier scene that features Pak's daughter and her boyfriend shopping in the same wet market. "That was a reflection. You see a straight couple walk around the market, lovey-dovey, no one would look at them. But for these two, it's something they have to really cherish."
I wondered why Pak's character was a taxi driver. "I just felt that for someone like him, who wants to escape home…What would be the best job if he still wants to have a certain kind of freedom? If he works at a 9 to 5 job, then he will constantly be with coworkers, and constantly have to pretend. Whereas if you are a cab driver, you are in your own place, and your clients come to sit for at most 45 minutes. You don't have to put up a front as long, and in between, you can have a break. If he wants to start cruising in a public toilet, things like that, it makes it easier. He can drive really far away from his area. If he lives in North Point, he can drive to Yuen Long, and no one is going to know. For him it's very convenient."
He elaborates on the significance of the taxi vehicle itself. "The taxi represents the access to freedom. Later on, when [Pak] gives his taxi to his son-in-law, he's really giving up his freedom. Even his last grasp of freedom. And for whom? For the family, again. For duty, for the next generation. Then for the first time we see him walking around, taking a van and other public transport, he's now depending on it. He has nothing to do, no aim in life, and by the time he walks into the church, he actually wants to see where life has taken him, and where he wants to go."
How societal prejudice affects the people around the protagonists
I asked about two specific characters – Ching, Pak's wife and Wan, Hoi's son – in relation to the film's prominent theme of suppression. They both appear to know that their respective family members are harbouring secrets, but the film never explicitly reveals the extent of their knowledge. "I think in a way, both of them are victims as well," Yeung begins. "The wife married a husband who ultimately didn't love her for who she is. They get along, but she knows that her husband – you know, maybe some things aren't very clear, they never talk about it. That's how we approached the character, she's in denial, she knows about it, but she doesn't want to address it." In one scene, Pak invites Hoi to his daughter's wedding banquet and Ching is visibly observant of them. "Even when she discovers that it's the truth, she cannot do anything about it…Because, what are you going to do? Break up the family? Break up the marriage? You are at that stage of your life already; you might as well just carry on."
So, what emotions would someone feel in Ching's position? "Of course, you wonder 'why'. 'My husband is gay, are all the things he did a sham, is this all true?' I think the same applies to the son, Wan, as well. He must think, 'Why am I here? Where am I? Obviously, my father doesn't really love my mother. Who am I?' Then your whole identity becomes very questionable. In the movie, it shows how they still carry on with their lives, when everybody is, in a way, hurt by this secret. If everybody opens up, if everybody accepts and agrees, then none of these people would be victims. But these are all victims of the prejudice society puts on them."
This fulfilling interview details the real life inspirations of Suk Suk, and explores Ray Yeung's thoughts on filmmaking, queer representation in HK cinema, religion and family.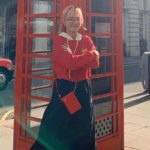 Karen is a journalist based in Hong Kong and London. She is an incoming third year Liberal Arts student at King's College London, majoring in English and studying Politics, Philosophy, Digital Culture, Classics, French as well as history and anthropology. She is also a writer, poet, photographer and musician.