In this three-part article, Roar writer Karen Ng interviews Ray Yeung, the director of Suk Suk. Part 1 discusses Yeung's inspirations and the real life stories that influenced the film.
Ray Yeung's latest award-winning movie Suk Suk (叔.叔) depicts a tender relationship between two patriarchs of heterosexual households, with their familial relationships playing an important role in the film. The film is an unprecedented exploration of the everyday lives and unique experiences of elderly gay men in Hong Kong. Ray Yeung presents their realities in a poignant light that reflects the themes of suppression, secrecy, freedom and responsibility. Roar Writer Karen Ng spoke to the director and screenwriter about the film's message and the LGBTQ+ community in Hong Kong.
How Suk Suk came to be
"I wanted to write a Cantonese movie," Yeung muses over our Zoom interview. "So I was researching, looking for different subject matters, and then I discovered this book!" He introduces Dr. Travis Kong's book Oral Histories of Older Gay Men in Hong Kong, a collection of interviews with 12 elderly gay Hongkongers. It is now available for purchase on Amazon. "Not a lot of people have actually heard about their stories," he notes, explaining that he reached out to Dr. Kong, the Associate Professor of the Department of Sociology at the University of Hong Kong. "Some of them have passed away already, sadly, so I met up with the ones that are still around. I went to them, went out for dinner, talked to them, shared stories, and then afterwards, I thought: I really have to do this because there are so many interesting stories, and their life experiences are very different from the LGBT community nowadays. They have a very deep kind of shame because of the situation they grew up in."
The real elderly Hongkongers who inspired the film
Above, a still from Suk Suk: Pak and Hoi meet at the park.
Highlighting elderly LGBTQ+ stories has been key to Suk Suk's development. "Their stories are heartbreaking," Yeung comments, describing one man in particular who he spoke to. "He's very fun, very active. When we talked about his family, he went really quiet. He came out to his mother forty years ago, then afterwards she got cancer. He felt that if he hadn't come out to her, she wouldn't have been sick." We pause and reflect on the weight of this. "He blamed it on himself. Now, even though his mother died a long time ago, he said he occasionally talks to the ancestral tablet and tells her 'I'm sorry.' Even now, he said he would cry [about this]. That's the kind of shame they had. He internalised all the shame, all the guilt, and carried that with him for the last forty years."
Yeung continues: "The same person is in a wheelchair now. He tried to apply for welfare, so that people can deliver food to him. The welfare officer has to come and see your status, and see whether you are qualified – so he was very worried they would know that he's gay, and not give it to him. Of course that's not the case, but this is, again, internalised shame. He threw everything that he felt was 'gay-related' in his apartment for the meeting. He had been collecting Hello Kitty [memorabilia] for years, but he felt that Hello Kitty would show that he's gay. So he threw his whole collection away, including his old love letters and everything. I mean, it's just so mad. But you know, you can't blame them. When they were growing up, homosexuality was illegal. They could be taken to prison. And if you had sex with anybody, there was a chance that person could blackmail you." Hong Kong only legalised homosexual relations between men in 1991.
"You have all these things surrounding you when you are growing up, but you can't resist this desire inside you. Of course you will have this shame around you. Of course you will feel guilty. After meeting all these people and hearing all these stories, these really sad stories, I really wanted to put it in the movie. But I didn't want to make everything about 'how sad we are' so I kind of recreated the story, taking parts from different characters, blending it together – creating a love story." A memorable scene in the film features one of the protagonists throwing his box of memorabilia away, presumably for the same reasons as the man whose story Yeung shared. "Yes. More so, was the character Chiu," he explains, referencing a character with ageing knees who lived alone, and was mocked by neighbours because they saw him at a Pride Parade on television. 
"That's also connected to the elderly home. For them, they knew that if you are old, and no one looks after you, there might be a chance you have to go to an elderly home. If you are gay, and you go to an elderly home, you are suddenly put into a completely heterosexual environment. You are quite helpless. So what are you going to do? You have to come out all over again, or you have to go back into the closet. Really, those are the only two choices you have. So, you know, it is difficult, very difficult. I addressed that in the movie as well."
This fulfilling interview details the real life inspirations of Suk Suk, and explores Ray Yeung's thoughts on filmmaking, queer representation in HK cinema, religion and family. You can watch Suk Suk's trailer here. Part 2 and 3 of this article will be published in the following days.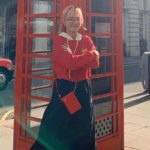 Karen is a journalist based in Hong Kong and London. She is an incoming third year Liberal Arts student at King's College London, majoring in English and studying Politics, Philosophy, Digital Culture, Classics, French as well as history and anthropology. She is also a writer, poet, photographer and musician.