Roar writer Manon Luquand discusses the depiction of French people in the new Netflix show, Emily in Paris.
Emily in Paris is a new TV show on Netflix, starring Lily Collins, Ashley Park, Camille Raza and Lucas Bravo. It illustrates an American leaving her country to live her dream: live in Paris. Through the episodes, we discover touching and funny characters in quite embarrassing situations, which creates an attachment to the series. However, we are also confronted with a lot of clichés about Parisians.
In the show, the French are represented as mean and lazy people who never arrive on time or come to work late, and who are incorrigible flirts with no concept of being faithful or loyal to their partners. But are they truly like this in real life?
Are Parisians really mean? 
The word "mean" would not be correct, because they are not. However, it is true that across France, Parisians are the least loved. They think they are better than others sometimes, simply because they are Parisians. (In their defence, Paris is the most beautiful city in the world, so it is normal to show off.) Many of them are all about work and personal interests, which is why they can get easily irritated. Moreover, life in Paris is different than in a smaller city: it is a big city, and like all big cities, things go faster, people know each other less and are less cordial.
Instead of mean, the correct word would be grumpy. As soon as they are not happy, they let you know. But that's what defines them, after all; the French are passionate!
Are Parisians really lazy? 
That is definitely wrong. Parisians are not lazy. Yes, they do like to be entertained and have a good time in a restaurant or a concert, but they do work a lot. Of course, this is only a general opinion and there must be some lazy Parisians out there, but most of them are not.
Are all Paris restaurants good? 
The answer is yes. Obviously, I haven't tried them all, but it is a general observation: every restaurant I visited in Paris was really good. That is actually something many foreigners realised when they left their country, that it is not a normal thing to have good restaurants everywhere; it is a French thing. So next time you come to Paris, don't worry about finding a good restaurant. They are everywhere. 

Do French men flirt all the time? 
Sorry to all the French that are going to read this but…yes, they do. However, in their point of view, they are not flirting, they are just joking around. It is not something they do consciously. The good thing is that French men are diverse: you will find very romantic ones, as well as those who are not like that at all. 
Do all Parisians smoke cigarettes? 
This cliché is wrong about Parisians. No one is allowed to smoke inside, and many French people have decided to quit smoking in recent years because fashion has changed. Smoking is becoming outdated, "ringard" (basic). Well-being is more and more prominent, and cigarettes are not in favour of it.
It is important to remember that Darren Star (the show's creator) transmits his own perception of a culture or a country, as every film director tends to do. No perspective is bad, they are just different. The Emily in Paris series shares a satirical humor, and as a French person, I really like the atmosphere in which the story is formed. It is good to know how to laugh at ourselves!
This article is not speaking on behalf of Parisians or French people. It only uses a French experience and perspective, opinions can therefore be divided.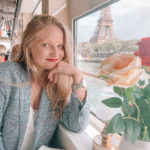 It is the story of a little girl who spent her childhood traveling and who was fascinated by her surroundings. Yes, this little girl is me, I grew up but I'm still passionate about travel and culture, and as I am really curious, I always want to learn more. that could maybe explain why I would like to work as a journalist !