Students will not be able to study abroad when university resumes in September as COVID-19 leads to more cancellations.
In an email to affected students, KCL Study Abroad explains that the decision has been taken to "alleviate the growing stress about the unknown." Concerns about the physical and mental health of would-be travelers also motivated the decision.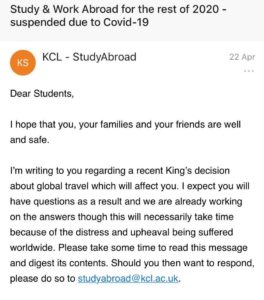 "For the rest of this calendar year King's students will not travel overseas for study or work abroad programs in connection with their King's learning."
Some overseas universities and companies have indicated that they will offer online replacements. Nonetheless, anyone looking to travel abroad next year, either in the first semester or for the whole year, will be unable to.
The email promises that students will not be academically penalized by this decision. Where a year abroad is normally compulsory, King's say they are committed to ensuring COVID does not adversely affect grades.
No decision has been made as to whether study abroad programs will resume in 2021. This means students planning on taking a semester abroad in the second term still may be able to.
This news only affects students at kings looking to study outside the UK in 2020. It is unclear what the policy is on students from overseas universities coming to study abroad at King's.
We await further information promised by the Global Mobility Office next week.