On Sunday October 4, the KCLSU posted a statement on their website regarding cases of Covid-19 at a social event organised at one of their venues. This came following the decision to ask students who had attended a Scrubs Party at Guy's Bar to self-isolate.
According to emails sent out by the King's Residences team to the affected persons and their flatmates, students were asked to self-isolate on the grounds of possibly having "been in close contact with one or more individuals who tested positive" after attending the event on Friday, September 25. These directives came more than a week after the event in question, meaning that attendees only have to isolate for one week until October 10.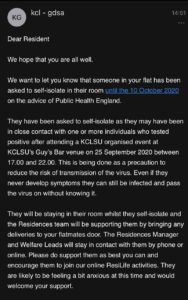 King's Residences do have a plan in place to support those who are self-isolating- they will be in receipt of a rent rebate for up to two weeks and receive £50 to spend on meals. Deliveries will be brought to their doors and Welfare Leads and Residence Managers are to be in touch with the students.
Roar spoke to Aman*, who is self-isolating as a result of the event at Guy's Bar. He observed: "The Scrubs Party was a very safe event, though it would have been better if the organisers had a seating plan to keep a record of who sat where. Since this was not done, all attendees who were at the event within the 5-hour time slot now have to self-isolate… £50 is not enough to cover food expenses for a week, given that students might not be able to access their shared kitchen to cook in halls… From the perspective of keeping people safe, I fully support what the university is trying to do."
The faculty of Arts and Humanities also reached out to its students with an update regarding the incident at Guy's Bar, assuring them of the procedures in place to deal with Covid-19 cases on campus.
Another incident took place at the GKT Netball's "Freshers Wednesday" event, a taster session for incoming students looking to join the Netball Team. Three girls were awaiting the test result of someone they had been exposed to before attending the session, and found out after the session ended that the test was positive. One of these girls herself tested positive for Covid-19 soon after the event. Netball trials have been postponed to the third week of October as a result of the incident.
As cases continue to rise in London, some efforts are being made to crack down on unpermitted social interaction on campus- numerous instances of the police breaking up flat parties have been reported at various residences. After the partial re-introduction of in-person teaching last month, King's has been following social-distancing guidelines for academic activities conducted on campus.
Roar has contacted the KCLSU and is expecting a statement soon.
*Name changed to protect identity.
[Update: 06.10.2020 21:17] The Vault has announced on its social media channels that its events for the coming week have been cancelled. It remains unclear whether this decision was taken in light of the incident at Guy's Bar.
[Update: 07.10.2020 09:54] Roar has received a statement from KCLSU President Salma Hussain, below is an excerpt from it:
"We take the health and wellbeing of our student members as our top priority. The event at Guy's Bar as well as all others have fully complied with the latest Government guidelines. We complete full venue risk assessments and ensure that the rule of 6 is abided by, as well as social distancing, staggered entry/exit, reduced capacity and hand sanitising is all implemented. All our staff are trained to ensure the venues are Covid-19 safe  and wear protective disposable face coverings while working. We have cancelled all in-person events this week and Guy's underwent a deep clean.
We are working with King's to make sure students that need to self-isolate are supported. This includes the residences team providing students in halls with support on site, such as delivery of food brought to student's door, welfare teams checking in regularly and online sessions to help alleviate feelings of isolation. Student staff working at the venue are also receiving direct support from their line managers at KCLSU."