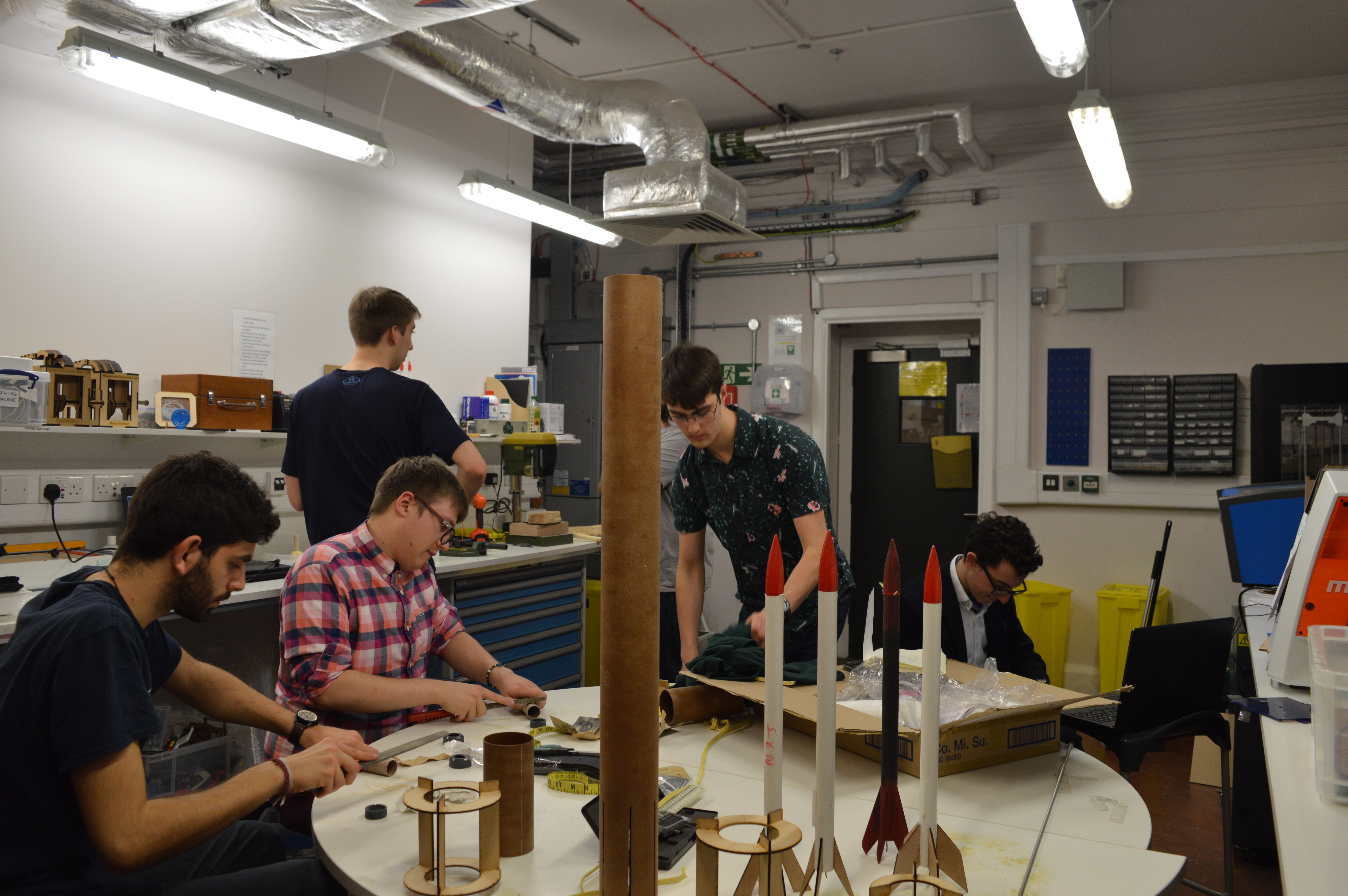 You think building rockets is something only NASA does? This summer students from King's Space Society are here to prove you wrong!
Our young engineers are currently working on two projects for the annual National Rocketry Competition run by scientific organisation UK Students for the Exploration and Development of Space (UKSEDS). Aman Sandhur (current team leader), Sergei Sirera Lahoz, Yuhuang Ou, Sophia Lee Roberts, Erik Lundstrum, Thomas Clarke, Nikolay Gospodinov, and Jack Burnage are putting all the effort into making their graphics a reality.
The Rockets
The two rockets will be with a height of 1.5 meters and 1.7 meters made from laser-cut plywood, medium-density fiberboard (MDF), and phenolic board (thick paper reinforced with resin). As perfection and precision are the team's best friend, members of the society would spend hours in measuring, calculating, polishing and shaping all the pieces… or even creating them. 3D printers really kick in here!
"You just input all the measurements and the material, press a button, and voilá!"
The rockets are expected to reach more than 1000 meters with one of them being two-staged. You have seen how rockets on movies release their lower part, right? KCL rocket would be able to do so as well! In addition, the team is adding a camera which will rotate and be controlled remotely. Both rockets will store and send off data once launched. This whole automation process also includes a lot of coding and the use of proper software, which are to be kept in secret from rival teams.
The team is planning to build a third smaller rocket if there are enough parts left. As  the funding comes from the Physics Department and KCLSU, the Rocketry team shares to be thankful for the university's generosity.
Launching
All competitors must launch their rockets by Monday, July 1. The KCL team plans to send their rockets into the sky on Sunday, June 2. Roar have been told that the launch site will "be at a farm somewhere near Cambridge."
The team has a special launch gun. As the rockets will be positioned on the ground, a member will simply pull the trigger, and the job is done! Then comes the tough process of evaluating the statistics and controlling the camera. As the rockets would be fully automated, the second-stage will not be controlled manually. And as the rockets reach their final seconds of life, attached parachutes would open in order to prevent any possible damage during "landing".
So be prepared, because King's students are conquering the skies!
Deputy Editor @ Roar News. Liberal Arts. Content creation, design, photography. Huge nature and mountain lover.