Hats off to KCL's outstanding Equestrian Team! From winning Varsity, to being crowned National Champions, there is no doubt that last year King's was deservedly perched on a high horse.
The elite team consisting of Katie Chan, Phoebe Wakeman, Tosca Little and Roselly Hamlett kick-started their impressive season by winning three out of four of the League Show Jumping events. These victories placed them in excellent stead for the Regional round in Hampshire where they put on another phenomenal performance, progressing as winners into the BUCS Equestrian National Championships.
Yet our KCL riders did not halt there! Unphased by the other finalists: Oxford, Exeter, Liverpool, Northumbria and Aberdeen, they dominated the championships held at Bishop Burton College, securing clear round after clear round all the way to a first National Championship.
Team Member, Roselly Hamlett reflects on the occasion: "I am over the moon to have been part of the team that won the first ever British University Equestrian National Championships! We have all worked so hard and I can't wait to get back training for the new season. I am confident we have the ability to out-jump UCL at Varsity this coming year and put on another strong performance in the national arena!"
Indeed, our show-stopping show jumpers put on another masterclass in their varsity matchup against UCL, pulling off a 6.5 to best Gower Street's 9.5 and take home the only King's win on an otherwise disappointing Monday for the Strand faithful, to end their season with a bang.
Roselly also made it clear to ROAR that KCL Equestrian is never satisfied and in turn always looking for new members (of any level) to join and participate in one of their three competition teams or simply enjoy the opportunity to learn to ride during their weekly lessons.
The club is open to anyone who fancies having a ride as nobody needs to own their own horse. Team members will get a chance to ride a variety of horses housed at Trent Park Equestrian Centre (close to Oakwood on the Piccadilly Line) and select one at random prior to an upcoming competition.
Captain Ciara Campell and President Edward Chitty (along with Roselly and the rest of the fabulous team) will be down at Team Trials on September 25th, will you?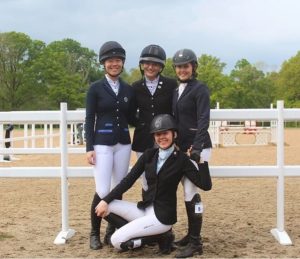 Pictured: Katie Chan, Phoebe Wakeman, Tosca Little and Roselly Hamlett