After four months, King's has finally issued a formal apology for disabling student activist IDs on the day of Her Majesty the Queen's visit in March, and it is simply too little, too late.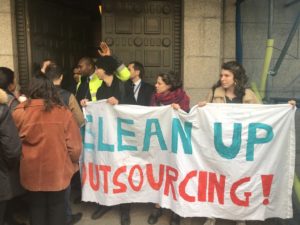 PROTEST: Picture from a protest earlier this year.
The apology was made by acting principal Evelyn Welch as part of a formal report released last week.
The report investigated the reasons for the exclusion of the student activists from campus during the Royal visit.
For many, this may be too little, too late, and I have a few questions you may want to consider.
A delayed response?
First and foremost, I wonder why the apology was made four months after the initial incident?
What on earth was the KCL leadership doing that was deemed more important than apologising to our peers, who were denied access to the university they pay a yearly fee between 9,000 and over 20,000 pounds a year to attend?
What could be deemed more important than ensuring those students felt protected and listened to in the months that followed the incident?
The arrogance that has been on display by the university to assume that a delay of this extent was ever acceptable shows precisely where their priorities lie, and it is not with the point I wish to make next.
Student welfare over Royal welfare
Secondly, is student welfare not the most important priority of a university, or at least a priority over the welfare of visiting royal? And does student welfare not include all students?
Our university's Safe Space Marshals are actively preventing societies from engaging in debate and using their freedom of speech – should they not protect us all?
Even the sixteen students our leadership apparently deemed threatening to Her Highness (or whatever the right phrasing is in this monarchy-obsessed nation) should be included in that.
Another question this raises is how were the targeted students selected?
How on earth does protesting former IDF Colonel Eli Bar-On automatically mean one will protest the Queen?
Does being part of KCL Cut the Rent, KCL Intersectional Feminist Society, KCL Climate Strike, KCL Justice For Cleaners or KCL Action Palestine Society translate into one being in opposition against it all, a vile threat to everything old and traditional and dull?
What else exactly is being done as a means of apologising to the students?
Have they gotten in touch with them personally? Will they get some sort of compensation for being targeted by their own university?
Or is this another bogus apology that institutions like ours bitterly hand out when they are forced to admit wrongdoing?
Abuse of power
Let's make one thing perfectly clear, I do not always agree with all the student activist group and networks that our student body is comprised of.
I do not agree with disrupting events one opposes or blocking the entrance of students and participants trying to join said events.
I also believe that some of our student activists sometimes seem to react for the purpose of reacting, without really getting their message across.
My personal belief is that conversations have a bigger impact than shouting, disrupting and disrespecting your opposition.
With that said, I really don't agree with my university breaching its own data protection codes in order to block students who do seek out more extreme sorts of protest.
I do not agree with the existence of a list of 16 people without a criminal record (or any other records for that matter) to be singled out by my university simply because they believe in something.
What our university did was worse than what any student activist could ever do at the royal event, or any other event for that matter.
It was worse than blocking an entrance or shouting from the audience during a debate.
King's abused its power over its student body and left them feeling singled out and unwelcome at their own campuses.
Why we need activists, whether they are right or wrong
Activism remains at the core of a functioning democracy.
Although it would be shallow at best to compare student activists at King's to the people currently risking their lives to fight for their beliefs in Sudan or Hong Kong, events across the globe serve as painful reminders of how dangerous activism can be.
If anything, our university should celebrate the fact that its student body is comprised of people who put their own welfare at risk to fight for their own beliefs.
So thank you, Ms. Welch, but it's too little, too late.