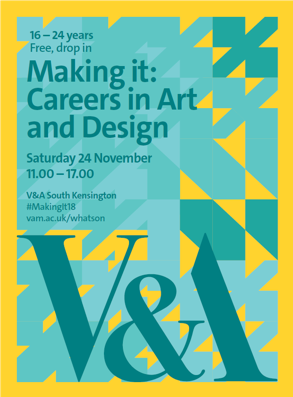 Are you interested in a career in art and design? The Victoria and Albert Museum is hosting their annual 'Making it: Careers in Art and Design' festival on 24 November, to engage 16 to 24-year-olds and help them explore their career options and opportunities.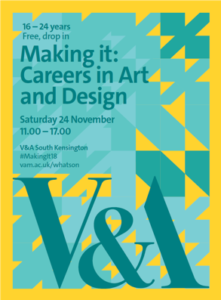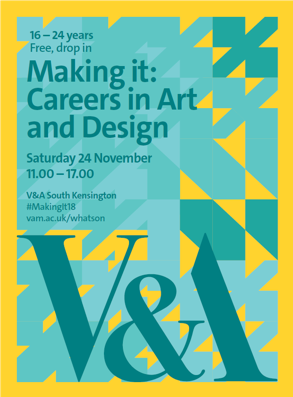 Creatives from a range of industries are coming together to give talks, workshops, demonstrations and displays throughout the day. Wanted to have a go at fashion illustration? Author and illustrator Stuart McKenzie will be running workshops all day. Considering becoming a fine artist? Rosemary Cronin will be giving a talk on the different ways to set up your own art practice. There is really something for everyone, with the programme including insights into the fashion industry, photography, architecture, curating, journalism and more.
There is also the opportunity to gain 1-2-1 advice from professionals in several industries and people are welcomed to bring their portfolio or CV along for feedback. Talks on how to choose a career, being a freelancer and turning your idea into business could give you the tips and information you need to start shaping your future.
The festival has been devised in association with CreateVoice, the V&A's young people collective. From choosing speakers to finalising marketing strategies and design ideas, this event was made by young people for young people.
We spoke with Nicole Jones, the Assistant Programme Manager for Young People at the V&A.
How do CreateVoice help to shape the festival?
We have worked with CreateVoice (the V&A's youth collective) over the last six months on all elements of the festival. They have suggested speakers, highlighted key issues we should address, helped to create the visual identity of the event and will be supporting at the event itself. Because of their input, it really feels like we are building a festival that is relevant to young people who are interested in a creative career today.
Why should people come along to 'Making it: Careers in Art and Design'?
It is important to be informed when you are deciding on what sort of career you might like to have, and you just don't know what you don't know. 'Making it' covers such a wide range of topics so whether you know exactly what you want to do, or are still figuring it out, there will be something here for you.
What are you most looking forward to at the event?
I'm really excited about the way the creative industries are evolving and changing, so talks like The Interactive Entertainment Sector and Product and Digital Design are top of my list!
'Making it: Careers in Art and Design' will be held on Saturday 24 November 2018, 11:00-17:00 in the Sackler Centre, V&A South Kensington. Find out more here: https://www.vam.ac.uk/event/XVnD9mkY/making-it-careers-in-art-and-design-16-24-years-nov-2018.