Roar News has uncovered screenshots showing several participants of a Facebook group chat called "KCLJ4C" openly discuss involving "antifa" in an event called "KCL: White-supremacists Neo-Fascists OFF our campus NOW".
This discussion took place on 4th March, one day before the Libertarian Society event named "Yaron Brook & Sargon of Akkad Live" in which Objectivist writer Yaron Brook and controversial YouTuber Sargon of Akkad (real name Carl Benjamin) came to speak.
The Facebook group chat called "KCLJ4C" is used as a communication tool to organise the "KCL Justice for Cleaners' campaign", a students' campaign at King's College London in support of the KCL cleaners' dispute against their employer Servest.
The event "KCL: White-supremacists Neo-Fascists Off our campus NOW", which was organised to peacefully protest the Libertarian Society event, took place on 5th March at 18:00, and was co-hosted by several KCL societies, namely "Demilitarise King's", "KCL Action Palestine Society", "KCL LGBT+", "KCL Kashmir Solidarity Movement", and "KCL Socialist Students".
In reaction to the KCL Libertarian Society talk featuring Yaron Brook and Carl Benjamin, the event "KCL: White-supremacists Neo-Fascists Off our campus NOW" aimed to "come out, be loud, interrupt fascist spaces and organizations", urging supporters to "not let their discourse be normalised".
Notable members of the Justice for Cleaners campaign, namely one of the campaign leaders Simona Simion, and KCL students Zahra Butt and Victor Sievert, specifically mention "antifa", "London Antifa", and "Solstar", another well-known left wing volunteer run anti-fascist group which organises group sports classes in London.
This conversation occurred on 4th March, one day before the Libertarian Society talk. The pictures below show the discussions that took place: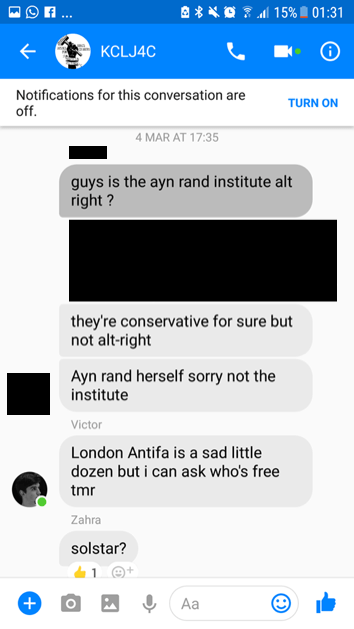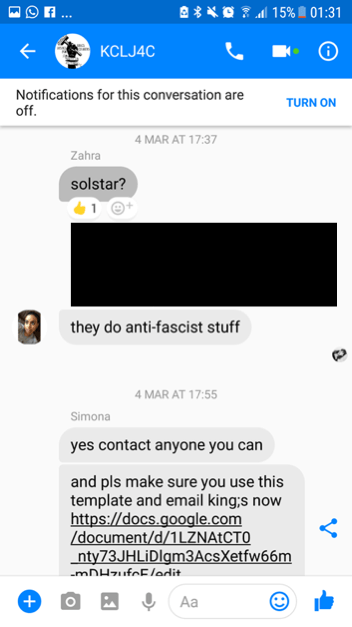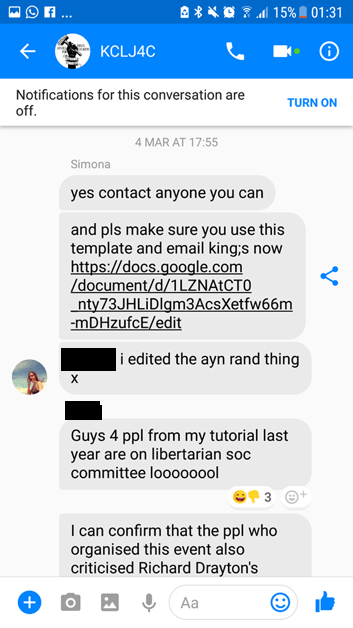 Simona Simion poses the following question to the Facebook group chat: "does anyone know any antifa groups that could come along in support".
In response, Victor Sievert mentions "London Antifa" and Zahra Butt talks about "solstar" who she says "do anti-fascist stuff".
Simona Simion then asks them to "contact anyone you can".
Roar News contacted Simona Simion, Victor Sievert and Zahra Butt for a response to these findings.
Simona Simion replied with "no comment", and Victor Sievert and Zahra Butt gave no reply.
The screenshots below show the context of the discussion above, describing what event they were referring to: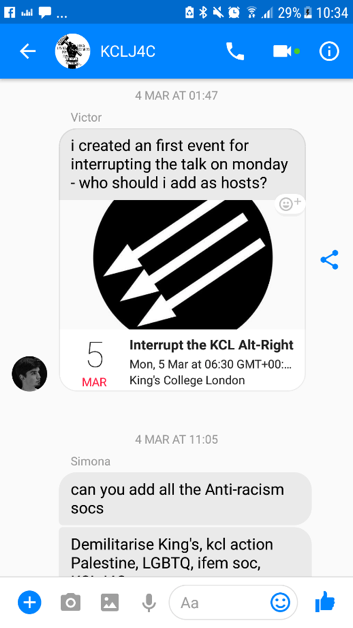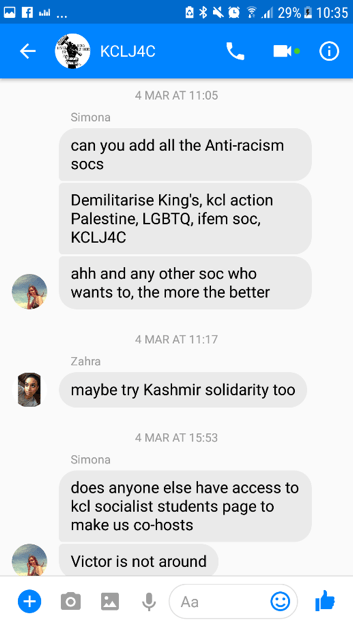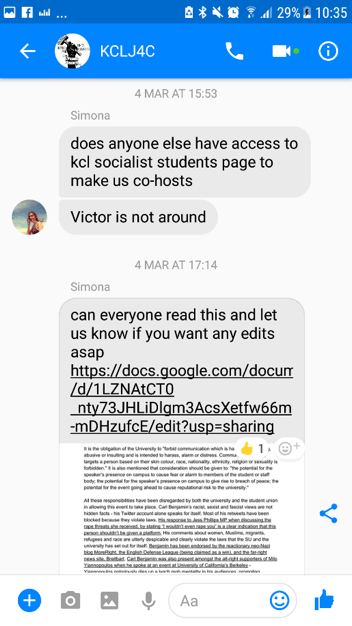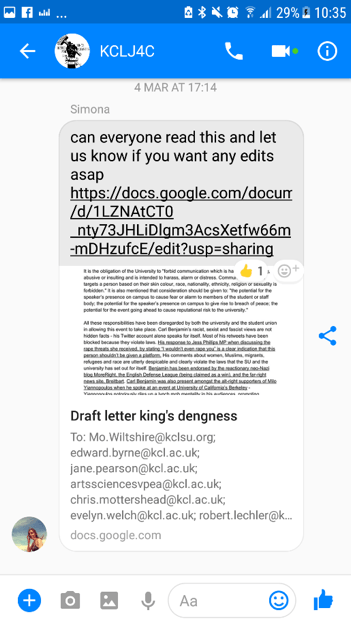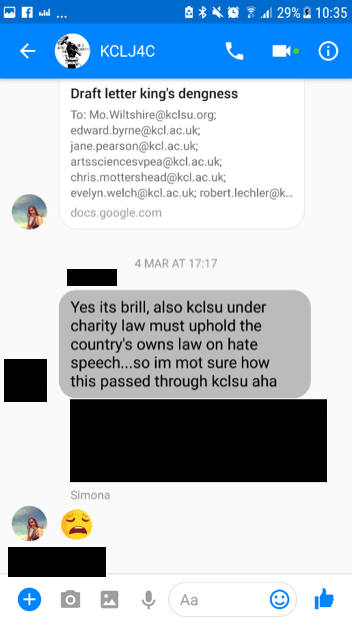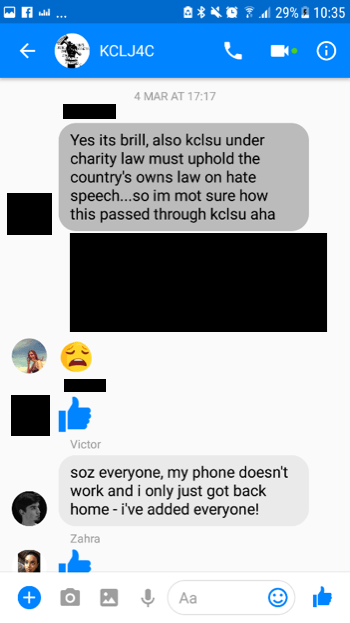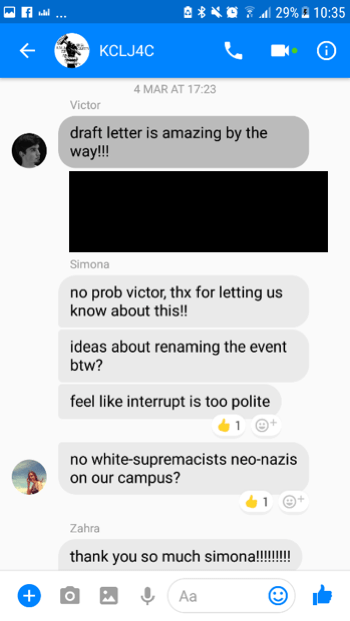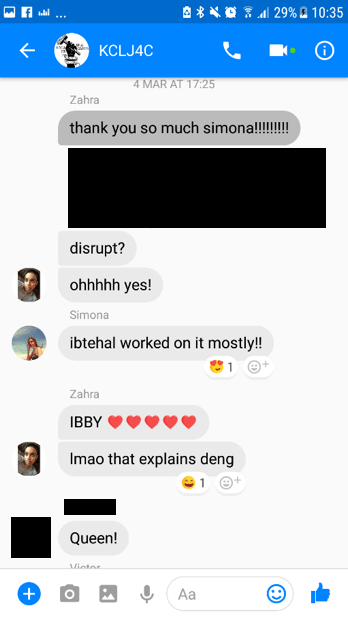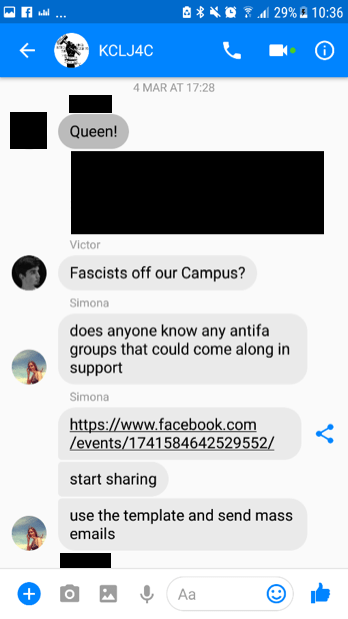 Here is a link to the Solstar website: https://www.indymedia.org.uk/en/2016/03/524664.html
Roar wants to clarify that this article does not aim to undermine the work done for the cleaners' struggle, which we continue to fully support. 
Later edits:
The article does not attempt to imply other members in the J4C chat have participated in the discussions mentioned. Therefore we have redacted the names out of greater decency to those not directly involved with the mentions of Antifa, London antifa and Solstar.
The mention of UNISON has been removed, as the organisation has no connection to the events mentioned in this article.