Director Sara Malik explores racism and gender discrimination through her contemporary reworking of The Tempest. In light of recent political events, her choice to highlight the social implications of the text is a refreshingly modern take on the play.
The production includes two poets, Tane Stevens and Maya Sourie, who put a contemporary spin on the text as they act as a chorus in the play using 'spoken word' poetry. Their interjection in the play exposes the darker side of The Tempest and forces the audience to question the prejudice and oppression they are witnessing on stage.

Malik explains she wanted to tackle racialised police brutality and intolerance in the form of Islamophobia, racism and homophobia, incited from the recent election of Donald Trump as President of the United States. She adds, "When the US president openly advocates racial division, we cannot afford to be silent."
Discrimination is a complex theme, but the creative team illustrated it most brilliantly in the set design. The stage is divided into two islands – one for Caliban and the other for Prospera, to show the distance between them.
Ariel is the only character that is able to move between the two islands as he attempts but eventually fails to create a relationship with Caliban. However, the distance between the two islands is resolved at the end once Caliban makes a bridge between the two islands with two garlands of flowers.
Third year English student Katie Ng said: "I love how the stage is beautifully decorated and set between the audience as an oblong passage, laying out interaction and hierarchy between characters unreservedly to the audience. The setting definitely contributed to an absolutely engaging experience."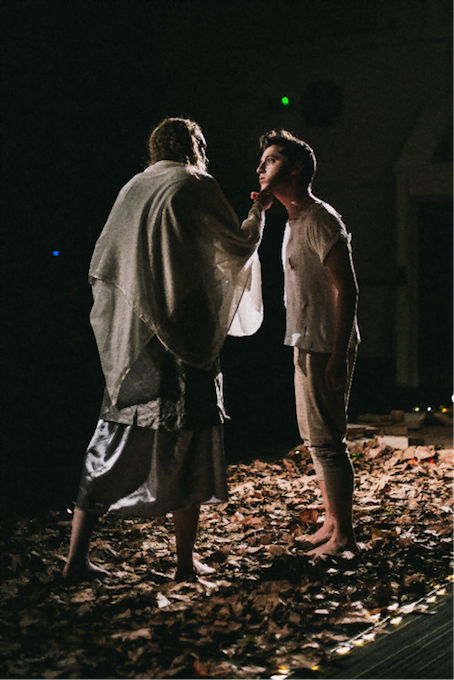 Malik's careful reimagining of the text also plays with ideas of gender – male characters in the original text are altered into female. She explains that "we had to re-think the script and character relations entirely when we changed both Prospero and Caliban to female characters; women are so much more easily condemned than men, so we had to tread softly in understanding how to portray the complexity of our female leads."
Changing Prospero's gender propels the character into an intriguing dialogue of patriarchy, as Prospera becomes an empowered female who leaves her home and the struggles of a male dominated world in order to find a new nation to rule.
The performance also includes live musicians, singers and dancers who all contribute in creating the ethereal and magical atmosphere of the two islands. The music and dancing was particularly impressive during the carnivalesque wedding banquet scene as the incredibly talented live musicians and dancers worked to create a lively, fun and exciting ambience amidst the drama of Iris, Ceres, and Juno.